Boston University women's basketball extended their win streak to 16 games and tied their 16-game program record for most conference wins in their 77-70 victory over Army West Point.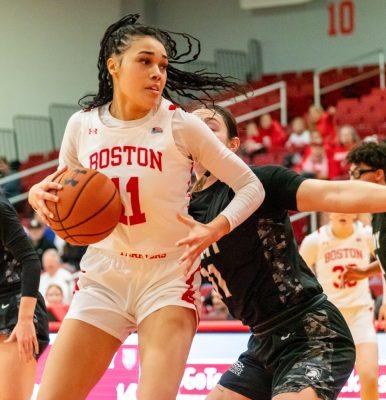 Fresh off clinching the regular season Patriot League title, the Terriers (21-6, 16-0 Patriot League) stayed perfect in conference play after a hard-fought battle against the Black Knights (12-14, 10-6 PL).
"We started off the season with a lot of goals. One of them was to just win the Patriot League, and then stay undefeated at home, so we prioritize that every single day," junior forward Caitlin Weimar said. "For everything we've done, we deserve championships."
Weimar impressed, posting a career-high 32 points on 12 of 17 field goal attempts, including a perfect eight-for-eight on free throws. She became the first Terrier to score 30 or more points since 2012. Weimar also snagged six defensive rebounds and drew eight fouls off of Army's aggressive offense. Head coach Melissa Graves said Weimar "couldn't be guarded."
The Black Knights went into the game trying to preserve their four-game win streak and vying for the sole second-place spot in the Patriot League, which they shared with both Lehigh University and the College of the Holy Cross.
West Point played a gritty style of basketball, fouling 21 times, and managing to keep the score close for the majority of the game. Their strength was in their rebounding, racking up 29 rebounds in the game, but the Terriers countered with 31.
"We knew what [the game] was going to be, and we really held it together," Graves said.
Army also struggled to contain senior forward Maren Durant. Durant shone with seven total rebounds — four offensive and three defensive — and totaled 14 points on the night.
BU downed a season-high 50 points from the paint, finding a way to score on the scrappy Black Knights. The Terriers were only 3-for-12 beyond the arc while Army dropped 30 points from threes, going 10-for-29.
Army's junior guard Lauren Lithgow was responsible for half of those 3-pointers, sinking five of 10 attempts, eventually totaling 17 points.
Lithgow's teammate senior forward Kamryn Hall was another bright spot for the Black Knights with 19 points and five total rebounds. She also collected two assists and helped defensively with two steals.
The game was also Play4Kay night and honored the life of North Carolina State's women's basketball coach Kay Yow, who passed away in 2009 from breast cancer. Players wore pink socks and pink warm up gear, and Graves was wearing a pink dress to commemorate the event.
"We talked about what our fight looks like today and what can we do with the opportunity that we have and not take it for granted," Graves said.
BU has two games left to play in the regular season. The Terriers travel to Bethlehem, Pennsylvania to take on Lehigh University on Saturday at 4 p.m.
"We still have business to take care of," Graves said. "We still want to work on what we need to work on, work on adjustments, and have really good momentum going into tournament play."