Case Gymnasium went silent as Lehigh sophomore guard Tyler Whitney-Sidney launched a potential game-tying three from the top of the key with time expiring. As the ball banged off the left side of the rim, the crowd erupted as the Boston University men's basketball team gutted out a win in their regular-season finale on Saturday, defeating Lehigh 59-56.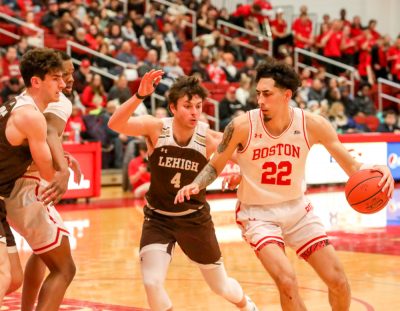 Saturday also marked Senior Day for the Terriers (15-16, 8-10 Patriot League). Guards Jonas Harper, Ethan Brittain-Watts, Jordan Tab, Daman Tate, Michael Quinn, forwards Tim Uzoegbu, Nevin Zink and forward and guards Walter Whyte and Fletcher Tynen celebrated their BU careers. 
"I got emotional saying goodbye to those guys, going through the ceremony," head coach Joe Jones said. "It means everything to have guys that you care about that played for you." 
The Terriers escaped with a win after a near-meltdown in the final seconds. After a missed free throw from the Mountain Hawks (16-13, 11-7 PL,) Harper dove on a loose ball off the rebound and called timeout before a jump ball was called. 
Junior guard Miles Brewster knocked down two free throws, but Lehigh continued to fight, as junior guard Jalin Sinclair connected on a three with 4.3 seconds left. 
Whyte converted two free throws of his own, and after Whitney-Sidney's missed three, the Terriers ended the regular season on a high note. 
In a highly competitive, playoff-like atmosphere, the Terriers were able to stay composed and grind out the win in what turned out to be a pivotal game in terms of conference tournament seeding, giving BU a first-round bye.
"You gotta [channel] your emotions into positive outputs," Brewster said. "Not towards fouling unnecessarily. You channel it towards crashing hard, boxing out hard, diving on a loose ball." 
Brewster totaled 13 points, seven rebounds, an assist and a crucial steal that came with less than a minute left on the clock.
"I'm running back, and I see Whitney-Sidney coming down the right side, and I see Sinclair look at him, and once I saw that eye contact, I knew I could have made that play," Brewster said. "I had to be on my Troy Polamalu right there."
In his final home game as a Terrier, Whyte contributed 19 points, 10 rebounds and a steal for his 20th career double-double. 
"That's just natural [for me] to be around the paint, rebound and defend," Whyte said. "It's just always been my foundation, rebounding and building off that."
The team now heads into the Patriot League tournament riding a three-game win streak. 
"We've proven that we can play with everyone," Jones said. "We just have to be consistent, but I think it gives the guys confidence."
BU looks to keep its season alive, kicking off tournament play on Thursday at the United States Military Academy. Tip-off is set for 6 p.m.