Following a rally outside of the George Sherman Union (GSU) earlier this month, Boston University students shared their opinions about the University's Residence Assistants unionization.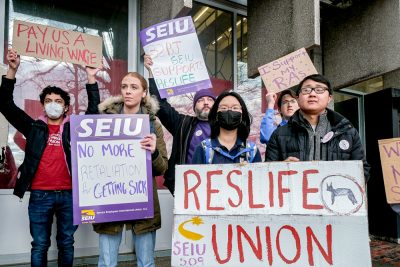 On Feb. 8, undergraduate and graduate RAs, along with other supporters of the RA union, came together outside the GSU to advocate for better working conditions, worker protections and support from the University.  
BU Spokesperson Colin Riley, declined to comment about the RA union, writing in an email that "the University does not comment on labor matters."
As reported by BU Residence Life, the ResLife staff is one of the few departments expected to be on-call 24 hours a day throughout the academic year, working in shifts to meet the needs of the more than 11,000 students living in on-campus housing. In exchange, these students get afforded housing from the University. 
Alexander Brumfield, a junior in the College of Arts and Sciences and the director of BU Senate's department of social advocacy, said the compensation for RA's is not all that it's made out to be. 
"It's very well known that if you go about the RA route, you do get housing compensated, but not a lot of undergraduate students really know the distinction that if you're an RA in an apartment, you don't get any sort of subsidization for not having a meal plan…  a lot of those things just aren't going to be known," Brumfield said. "It's part of the entire problem."
Brumfield also said the next steps for the RA union may mirror those taken by the graduate workers union last year. 
"One of the things that we did was set up a joint town hall between social advocacy and the Graduate Workers Union so that undergraduates could have the opportunity to hear more about why they're going about this entire process, what that process looks like and the general need for them to have a union," he said. "The process is fairly similar with the Residence Life union this semester."
Some BU students shared their support for the RA union and RA's efforts to be heard by the University. 
Isabella Gong, a freshman in CAS, said she thinks BU administration needs to hear more from students to improve living and working conditions for RAs.
"I think the school definitely needs to hear more voices from the students and the RA's to improve the life quality," Gong said. 
Billy Conroy, a freshman in the College of General Studies, said he thinks holding rallies is a good way for the RA union to get the attention of BU administrators and students.
"I agree with their rationale behind forming it,"Conroy said. "If they're overworked and under-compensated, yeah, they should [form a union]."
Conroy said he was surprised when he heard the RAs were unionizing because he always thought they had a "pretty good gig."
"I just was more caught off guard and surprised by the fact that they were planning on unionizing," Conroy said. "RAs aren't really visible, so any struggle that they're facing isn't really visible either." 
Anita Emokpae, a sophomore in the College of Fine Arts, expressed her support for the RAs unionizing and suggested ways that the union could have more reach on the issue.
"I support it, like them getting the right working conditions and payment for [working]," Emokpae said. "I think they just need to maybe post about it or create an account or be on campus actively, showing that they want to start a union." 
Celene Machen, a senior in CAS, said she thinks the RA's unionization signals a larger problem on campus of underpaying student employees and failing to support working students.
"I definitely think it's not an isolated incident," Machen said. "I think that BU needs to do a better job of adequately providing for its students, especially students who are working for them."
The Boston University Residence Life Union will be holding a town hall meeting on Feb. 27 at 5 p.m. in the School of Theology to share more information about the new union.