To Kamsi Ilojoe, a senior in the College of Arts and Sciences, "Autumn Beat" is "monumental."
Set in Italy, "Autumn Beat" is a coming-of-age story that follows the complicated relationship between two Italian-born Black brothers breaking through the rap industry.
Black Italian director and screenwriter of "Autumn Beat" Antonio Dikele Distefano came to Boston University on Friday to screen the film.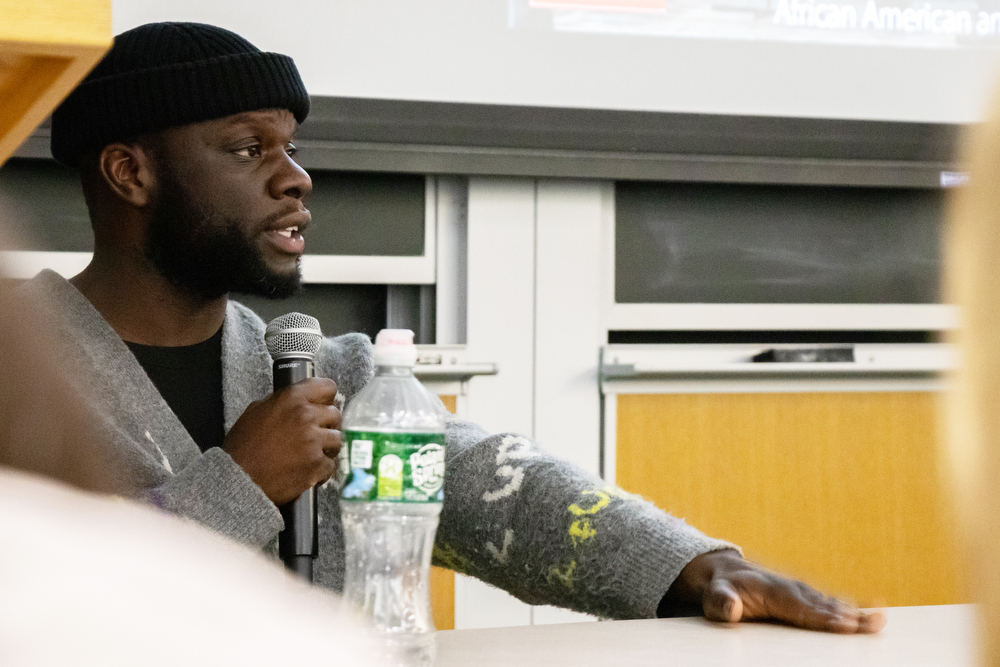 "So many people don't understand how much of an impact Black Italians have had on elements of southern Italian culture, and how much Black people have aided in the creation of Italian art," Ilojoe said.
"Autumn Beat" tells its story through three chapters, starting in the middle, followed by a second chapter that explains the beginning of the story, and concluding with the chronological ending. Romy Tarantino, a sophomore in CAS, said this was "a really, really special way of telling the story."
Distefano said he has screened his film to various schools across the country to receive honest feedback on "Autumn Beat." He said the film is not only a parallel to his familial experience but also a reflection of how he expresses himself.
"[The film is a reflection of me] in regards to family and also in the sense of expressing yourself in all sorts of ways without the fear that the world will judge you," Distefano said. "This is absolutely the case."
BU lecturer in Italian and Associate Director of Cinema and Media Studies Jim Carter said the in-person conversation with the creator of the film makes the experience "more real for students."
"It's one thing to watch a film and even to read part of a screenplay that was written by somebody who contributed to the production," Carter said. "It's a whole other thing to sit down in the same room with somebody and to realize at a gut level, this isn't just something that we study that happens on the other side of the ocean. It's something that is also part of our same world."
Carter said he identifies a lack of Black representation in Italian cinema, stating that Black creators have been prevented from making films and telling their stories through film because of institutional and cultural factors.
"This event is in some ways an attempt to remedy that situation, to center Black narratives in Italy," Carter said. "We're at the beginning of possibly an important moment in the history of Italian cinema where Black voices are going to become more audible and Black bodies are going to become more visible."
Ilojoe has taken both of Carter's Italian cinema classes.
"It makes me proud to see how much Professor Carter and his colleagues understand the importance of forcing people to acknowledge the potential and the existence of Black perspectives in Italian cinematic history," Ilojoe said.
Tarantino said she is currently a student in Carter's Italian Cinema class. Having family from Italy, she said she is aware of traditional Italian perspectives.
"It was really, really important to highlight in Italy how different it is for a Black rapper to break into that kind of industry," Tarantino said. "It was really important to highlight the racial differences because I don't think that's often talked about in media."
Aside from Distefano's personal connection, Ilojoe is impressed by the way the creation of the film breaks industry norms.
"As uncommon as it is for you to see Black actors on film, it's even more uncommon for you to see them behind the scenes like directing and actually managing the production of the film," Ilojoe said.
Carter said he wants his students not only to enjoy the film, but to see it in the context of Italian cinematic history — which has only recently begun to include Black voices.
"The presence of African descended people in Italy has not been translated to film, and so if you are watching Italy from abroad … you're missing something," Carter said. "You're missing something that is there on the ground, and that has not been adequately captured."
Distefano said he wanted to have creative license on his film and make something his own.
"If your goal is to be pleasing to other people," Distefano said. "You will never be satisfied."
Kamsi Ilojoe was a lifestyle writer for The Daily Free Press in Fall 2022.