The women's basketball team extended its winning streak to 17 in a 78-65 win against third-place Lehigh University on Saturday afternoon. The victory set a record for conference wins in the team's history, including time spent in both America East and the Patriot League, which they joined nine seasons ago.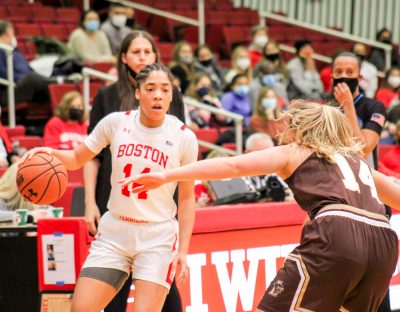 "This was a big win for our program. Obviously, breaking the record for most wins in conference play was a piece of it, but also being able to play Lehigh the way we played them on their home floor on Senior Night," head coach Melissa Graves said. "It was big of us to make the adjustments we needed to make to handle some runs and some adversity and figure out a way to win."
Lehigh (15-13, 11-6 PL) led for only 15 seconds in the game thanks to the Terriers' (22-6, 17-0 PL) defense. Junior forward Caitlin Weimar posted four blocks and senior guard Maggie Pina contributed three steals in the team's shutdown effort.
The Mountain Hawks went on a 10-0 run at the end of the second quarter to plant the seed for a comeback in the third, but Pina hit a buzzer-beater at the end of the first half after a steal to keep Lehigh down six points. 
Lehigh started the second half on an 8-0 run, but BU countered with a 14-0 run themselves to take the lead back and begin to pull away. The Terriers maintained a lead of 10 or more for the rest of the game.
"The biggest piece there was we started to lock in and get stops on defense," Graves said.
The Terriers also focused on senior guard and forward Frannie Hottinger and junior guard Mackenzie Kramer, who are the PL's top two scorers. They scored team highs with 24 and 15 points, respectively, and Hottinger had a double-double with 11 rebounds as well.
"We knew that there was going to be a lot of output from them. I thought [Hottinger] was a tougher matchup for us today," Graves said. "[Kramer is] a tremendous player coming off a game of over 30 points."
Weimar had a double-double of her own for the Terriers with 24 points and 15 rebounds. Coming off a career game with 32 points, Weimar fought through contact to control the paint once again for BU.
"She's just so dominant," Graves said. "She just played really tough. She came out of the game with a bruise on her face … She's just playing through it and playing to the next play, so she's just showing a lot of toughness."
The Terriers will face the College of the Holy Cross on Wednesday in their regular season finale. In their last game, BU defeated Holy Cross on Feb. 15 after erasing a 15-point deficit at home. The Crusaders are currently second in the league and can clinch second place with a win over the Terriers or a Lehigh loss in their final game.
Last season, the Terriers fell to the Crusaders in the season finale, which cost BU shared ownership of the PL regular season championship
"I think they plan it with a chip on their shoulder when they play Holy Cross because of what happened last year," Graves said. "What the team has achieved is really phenomenal but we're just not done yet."