Boston University Student Government heard updates about the new Student Link and approved funding requests in a meeting Monday night.
The meeting began with a presentation from Alexandra Bellerose, director of communications for enrolled students at BU, about the new Student Link, the first phase of which will be unrolled on March 6.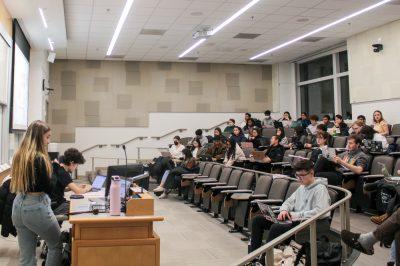 The new link will incorporate various changes, including a BU Shuttle tracking system, more ways to filter HUB classes according to your major and a way for students to change their pronouns, gender identity and display name within student systems.
"Once we're live in this system fully next year, we are going to be using a student's chosen name in the system that will display in certain areas, and it's going to be a lot more transparent," Bellerose said. "There's going to be an entire kind of identity management process in line with this system change, so those things will work in parallel for a really big improvement."
Along with the rollout of a new user portal, information will be shared with housing regarding chosen names and student pronouns to support gender affirming housing. Students will continue using the current Student Link for registration and other purposes until spring 2024.
The meeting continued with two funding requests: one from Phi Alpha Delta for a dodgeball fundraising event and one from the BU International Affairs Association for reimbursement of student organizations at the annual Global Village event.
Senator Yash Patel, a sophomore in the College of Arts and Sciences, introduced PAD's funding request — a dodgeball tournament on April 15 that fundraises for the Brookline Community for Mental Health.
"Following the recent event at StuVi, which was tragic, we thought it was important that us as students, acknowledge our impact on the local community and make sure mental health of the local community is solid," Patel said.
PAD requested $1,037.73 to rent FitRec gyms, cover the cost of snacks, and buy 10 $50 Amazon gift cards for the winners of the tournament. 75% of the proceeds would go to the Brookline Community Center. The remaining 25% of proceeds will be used to cover PAD costs.
Senator Jessica Sullivan, a junior in CAS and co-chair of the Mental Health Committee, questioned the necessity of $50 gift cards for the winning team, meant to serve as a motivation for people to attend.
"I think the $50 gift card as a whole I think it's just a very large amount in all honesty," Sullivan said. "In my mind, this is a community rallying event to get people to support more awareness for mental health resources."
The bill was amended to both cover the cost of tabling so all proceeds would go to charity and to cut the gift cards from $50 each to $20 each, reducing the funding request to $773.73.
The funding request passed with 33 votes.
The next funding request came from the BU IAA, who sought $3,000 to reimburse student organizations for their Global Village event to be held on March 26.
Global Village is an annual event designed to promote and share different cultures at BU through a combination of food, performance and the chance for students to walk around and engage with different student organizations. Five groups are already confirmed to attend the event.
The funding request was approved with 33 votes.