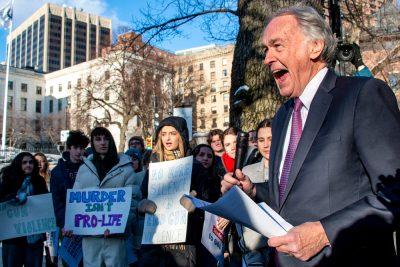 This article contains mention of graphic imagery.
Less than two weeks after three students were killed and four were injured in a mass shooting at Michigan State University, students from a number of colleges across Boston protested against gun violence on Friday to demand change.
The protest was held in the Boston Common in front of the Massachusetts State House around 3 p.m. on Friday, with students from Boston University, Boston College, Harvard, Suffolk, Tufts, Brandeis, Northeastern and more, all in attendance.
Sean Waddington, the president of BU College Democrats and sophomore in the College of Arts and Sciences, said his organization reached out to many of Boston's college Democrat organizations immediately following the Feb. 13 shooting at MSU to begin planning the protest. 
"It was an amazing demonstration of the solidarity and the power of organizing and the power of us as young people," Waddington said after the protest.
Protesters held signs that said "I don't want to Run. Hide. Fight. I want change," "Separation of gun and state" and several that read "students demand action."
Abby Menth, a sophomore in the Sargent College of Health and Rehabilitation Sciences at BU and one of the speakers at the protest, said she knew both Arielle Anderson and Brian Fraser, two of the victims in the shooting. Anderson and Fraser were from Menth's hometown in Grosse Pointe, Michigan.
"It's been a hard couple of weeks," Menth said. "This is something that happens too often, and it kind of just left me feeling a little hopeless because … it could have been any of my friends there, it could be me."
Menth said many of her friends in Michigan were happy to hear she was speaking at the protest and inspired her to have the confidence to do so.  
Sen. Edward Markey spoke on the role college students can play in ending school shootings in the U.S.
"This is a moment," Markey said during the protest. "A moment that needs young people to lead our nation, to be our guides, to tell us what has gone wrong in our nation, and without your leadership, we will not be successful."
Markey called school shootings across the nation a "black mark" on the history of the U.S. and said the Second Amendment never intended for people to be allowed to own assault weapons, calling for a national ban.
"This complete and total misreading of the United States Constitution can only be changed by politics and young people rising up to run for office, to have their voices heard so that we make the changes which are necessary," Markey said.
After speaking to the crowd, Markey said that activism by young people "ultimately is going to make the difference," when it comes to passing legislation to prevent gun violence.
"Action will probably only be possible as a result of activism from young people who are outraged across the country that their congressmen and senators in their home states are not listening to them, but rather to the NRA," Markey said.
Alexandria King, co-president of Harvard College Democrats, also spoke during the protest.
 "We have a right to feel safe in our schools, we have a right to feel safe in our places of worship, we have a right to feel safe in our malls, we have a right to feel safe in our everyday lives, and with current American gun laws, that's not possible," King said.
Rachel Jacoby, a youth organizer and Master's student at the Harvard Kennedy School, described the scene of her hometown in Highland Park, Illinois, where seven people were killed in a mass shooting at a parade on July 4, 2022.
"The windows of my favorite pancake restaurant, shattered by bullets … the benches I once ate ice cream on, smattered with blood," Jacoby said during the protest.
Jacoby, who led a grassroots effort to pass an assault weapons ban in Illinois over the summer, said she believes the same can be done across the nation. 
"All of us together give me hope that we will bring about a country where guns are not the leading cause of death for children," Jacoby said. "Together, we will build a future free from gun violence."