In 1983, Howard Schultz — Starbucks' director of operations and marketing at the time — discovered the profound craftsmanship of baristas while wandering the streets of Milan, Italy. Schultz was tantalized by the baristas' abilities to perform as culinary artists and their expertise in creating a "third place" for customers to relax between home and work, according to the Starbucks website.
Nearly four decades later, the inspiration Schultz gathered from Milan has employed baristas worldwide in over 36,000 Starbucks stores. 
In 2022, Schultz returned to Italy, but this time to Sicily. There, Schultz was introduced to the Mediterranean method of taking a spoonful of olive oil each day — a practice that may provide anti-inflammatory benefits, according to a PubMed study published in 2018 — in addition to his morning coffee. He decided to mix both, and an idea was born: olive oil-infused coffee.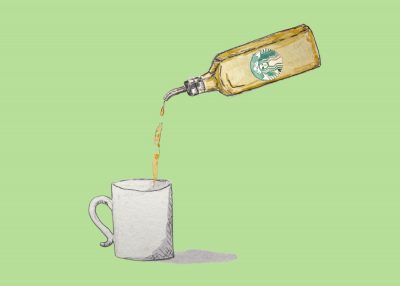 In honor of Schultz's nostalgic olive oil and coffee-packed mornings overseas, Starbucks has released a brand new line of beverages titled Oleato™ — coffee infused with extra virgin olive oil. 
As an avid fan of unique food and drink ingredient pairings, I am eager to try this line of drinks for myself.
Amy Dilger — the leading Starbucks beverage developer — made Schultz's Italian dream a reality. After learning about hundreds of olive oil varieties, she and her team selected the Partanna® extra virgin olive oil to represent their Oleato™ line. 
The olives used in Partanna® olive oil are called Nocellara del Belice olives — or Castelvetrano. These olives are renowned for their "vibrant and buttery flavor," according to the Starbucks website. The Sicilian family farmers who create the Partanna® olive oil have been doing so for four generations. To preserve their quality, they have mastered picking and cold-pressing their olives within hours.
The first location to experience Oleato™ coffee was the Starbucks Reserve Roastery Milan on Feb 22. Next is Southern California, later this spring. As 2023 progresses, Japan, the Middle East and the United Kingdom will also begin serving the drinks. 
The Oleato beverages served at the Starbucks Reserve Roastery Milan include the Oleato™ Caffè Latte, Oleato™ Iced Cortado, Oleato™ Golden Foam™ Cold Brew, Oleato™ Deconstructed and the Oleato™ Golden Foam™ Espresso Martini. The Starbucks stores in Italy offer Oleato™ Caffè Latte, Oleato™ Iced Shaken Espresso and the Oleato™ Golden Foam™ Cold Brew.
For nearly two years, I worked at a health-food cafe that serves an item called the "bulletproof" coffee. It is made with ghee, coconut oil and medium-chain triglyceride oil, which I believe will be very similar to the texture and richness of the Oleato™ drinks. 
I cannot wait to see if the Starbucks drinks live up to the hype — I have very high hopes!
If you'd rather throw salt into your coffee than olive oil, I understand, but one thing is for sure: Schultz is eager to share his love for Castelvetrano olives and coffee with the world. 
"In over 40 years, I can't remember a moment in time where I've been more excited, more enthused, that demonstrates the pride, the quality, the passion, the heritage and the craft of what Starbucks can do."