The fourth floor of the George Sherman Union, a space dedicated to the Community Service Center, was bustling on the evening of Feb. 26 as the leadership of the Alternative Service Breaks program finalized their spring break plans.
But these students are not your typical spring break travelers — on each of the five trips offered this year by the ASB program, they will be doing a week's worth of community service.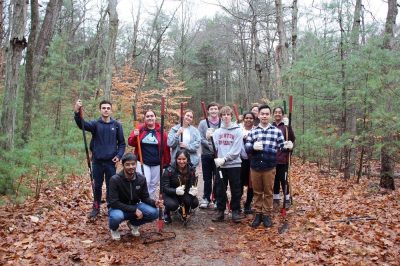 "At this point, [I'm] really excited because there's only one week to go … and we also have our team finalized," said Nadira Sivabalan, a senior in the College of Arts and Sciences and one of the two ASB program managers.
There are over 70 participants in total including student volunteers, student trip coordinators and chaperones selected from a pool of Boston University faculty, staff and graduate students, Sivabalan said. The participants will travel to Chicago, I.L.; Shawnee, I.L.; New Orleans, L.A.; Hobe Sound, F.L. and Macon, G.A., according to the ASB website.
This will be the first year since the COVID-19 pandemic that the ASB groups can leave Boston. Last year, ASB planned trips across the country but had to cancel them in response to the Omicron variant, said Zikeng Huang, a senior in CAS and one of the coordinators of the Chicago trip.
"COVID has just knocked out the original version of ASB," Sivabalan said. "We're rebuilding, reconfiguring, seeing how it goes with the current student population we have, recognizing that different things are playing a huge role in how many students are able to put that much time into the program."
In each of these locations, students will spend most of their days working with a local community service organization, according to the trip coordinators. These organizations range in their missions from providing vulnerable populations with residences and resources, to environmental conservation and animal care.
Tara Boudreau, a CAS junior and a coordinator of the New Orleans trip, described how she expects a typical day to go while working with the Louisiana Society for the Prevention of Cruelty of Animals.
"We wake up at about eight o'clock, eat breakfast and then we get to the LA SPCA by nine," Boudreau said. "We work from nine to four with an hour lunch break, so when we're there, we're socializing with the animals, we are helping them organize … we are transferring the animals to PetSmart."
After each day of service, volunteers will unwind with an evening of bonding and reflection, trip coordinators said.
"We're asking the volunteers reflection questions," Boudreau said, "and as the coordinators, we have to note it down to make sure that it's a meaningful experience as well as a productive one."
The trip coordinators also set aside time for both service-related and recreational activities, such as an aquarium field trip where volunteers will serve as guides for adults who are blind and a day spent digging holes on a Florida beach.
However, Tabassum Hurryra, a CAS senior and a coordinator of the Macon trip, said she encouraged students to participate in ASB for the positive changes they will make, not just for the recreational activities.
"Making an impact through something that will benefit others, and while you're at it, you get to explore a new place," Hurryra said. "I think that's my main selling point for the ASB trips."
Huang said he wants to "continue the relationship" with the organizations beyond the trips this year.
"What we do is sustainable volunteerism," he said. "Partners we will be working with, we have been working with them for years, since way before the pandemic, and we hope to go back to work with them again."
Sivabalan said she hopes the volunteers participating in the program "have a lot of fun" and can discover what it means to be a part of the ASB program.
"I hope that for this year, we can figure out where the program is going to go from here," Sivabalan said. "We'll see, we'll find out."