Boston University began construction in Claflin Hall on Jan. 23 to expand the Fresh Food Co. dining hall in West Campus and layout of the first floor.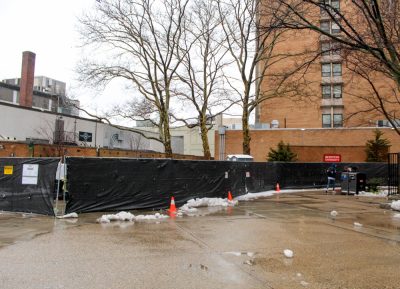 Students received an email from BU Residence Life on Feb. 22 announcing that construction would begin in Claflin Hall to "improve the current dining experience on West Campus." The construction will result in 100 additional seats in the dining hall, a new gluten-free station and a new location for the building's residential life offices.
Paul Riel, associate vice president of auxiliary services at BU, said that the decision to renovate the dining hall came, in part, because of the number of students that eat in West Campus every day.
"We do nearly 3,000 meals a day at West Campus," Riel said. "If you have a meal over there from time to time, you realize that seating becomes challenging at certain times."
Matthew Barsky, a freshman in the College of Arts and Sciences, said he eats three meals a day in West Campus' dining hall and has noticed more students in the dining hall this semester.
"I think especially with the CGS kids coming in, it's been really busy," said Barsky. "Having extra seats would be nice."
The project is split up into three phases that begin at different times.
The residence life office and vestibule will be renovated in phase one, which started in January and is expected to end by May. Phase 2A is scheduled to begin in May to renovate the first floor of Claflin and phase 2B is scheduled to begin in August to renovate the basement. 
The dining hall will be expanded into the Claflin study lounge, and the entrance of the building will change from the north side of the building to the east side The Claflin Hall residence life office will be slightly modified by adding more space for the office in the basement.
The construction will create a new, gluten-free only station in the dining hall, according to Riel, as Fresh Food Co. at West Campus is currently the only dining hall on campus without a dedicated gluten-free station. 
Construction staff have planned to minimize disruption to student life, according to Riel.
"Once commencement concludes, then work will begin in earnest in the dining hall and the rest of the project so that when students return to the fall, that project will be completed," Riel said.
Students have expressed the construction has had no impact on campus life so far.
Yiwei Zheng, a freshman in the College of Arts and Sciences, "thought they were planting trees" in the blocked-off area where the new entrance of Claflin Hall is supposed to be.
Erin Sullenberger, a sophomore in the College of Arts and Sciences, said she has dietary restrictions and believes the addition of the gluten-free station is "kind of exciting."
"I'm vegan, so I understand what it's like not to have a lot of options," said Sullenberger. "Adding in the gluten-free section … anything that expands options, I think is a positive thing."