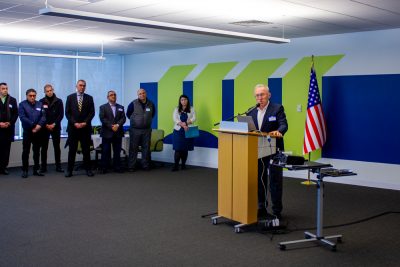 By Nicole Gonzalez and Adithya Iyer
Leaders, local business owners and volunteers spoke at an event on Sunday hosted by the Freerange Market, owned by Cenk Emre. The Medford-based market turned collection site is responsible for donating over five million dollars and ten truckloads of supplies to relief efforts in Turkey and Syria.
The event took place just six days after the second major earthquake in Turkey. Over fifteen people who contributed to the efforts at Freerange Market spoke about the impact that these earthquakes had on their lives and the work they put in to contributing to the relief effort. 
Murat Mercan, Turkey's ambassador to the United States, traveled from Washington D.C. to speak at the Freerange Market event. During his speech at the event, he said there was nothing in the world that can express his appreciation for the work that was done at the Freerange Market. 
"Whatever we are collecting here is meaning a lot there [in Turkey]," Mercan said during the event. "No matter who you are, we are all human. No matter what you believe, we are all in need… we know there are people out there that are true friends."
As the Turkish Ambassador, Mercan is in charge of all consulate generals in the United States and was integral in organizing national and international donation efforts for Turkey.
"I came here to view how things are going and also extend our appreciation for the donors [and] volunteers that have helped packing, trucking and sending all this stuff to Turkey," Mercan said.
Murat Uğurluoğlu, the Turkish consul general in Boston, extended his appreciation to the volunteers of the Freerange Market as well.
"As the saying goes, a friend in need is a friend indeed. So we'll never forget the support, it means a lot to us,"  Uğurluoğlu said during the event. "There's still more to be done, but the Turkish people are resilient, they're strong and we're strong with the support of our friends and allies."
Elizabeth McLellan, founder of non-governmental organization Partners for World Health, also spoke at the event. Partners for World Health worked with Freerange Market to send medical supplies to Turkey.
"Within three or four days [of the earthquake], we were able to put together 26 pallets of medical supplies that went this past Wednesday were picked up and taken to Turkish Airlines to ship into Turkey," McLellan said during the event. 
Other speakers of the event were business owners who contributed to the cause such as John Ricci, the owner of tuxedo rental company Delux Tux in Walpole, whose donating 100% of all tux rental proceeds from Feb. 13 to March 20 to the earthquake relief funds. Ricci said he did not know any Turkish people but he felt he had to contribute.
"People are people in my opinion, and we're so privileged and fortunate to live in a country that would take care of us if this kind of thing happened… so it's up to us, as privileged individuals, to give back," Ricci said. "It's really a good feeling to be able to help people whether you know them or not."
The last two speakers of the event were Malden Mayor Gary Christenson and Medford Mayor Breanna Lungo-Koehn. Lungo-Koehn talked about the role the Medford city government had with the Freerange Market's efforts.
"My staff saw that Freerange was collecting donations so we were able to publicize and do our small little part … the role they've played in helping Turkey and those that have been devastated because of the earthquake is nothing I could ever have dreamed of," Lungo-Koehn said. "I'm very proud to say Freerange is in Medford and they're helping the community and bringing the community together."