Even in the digital age, networking can be challenging, especially for students. In a fast-paced world, students need to move and make connections quickly. Josh Mayer, a freshman in the College of Arts and Sciences, has a solution.
Mayer is changing the way that people network with his invention, the OintTag — "an acronym for Open In New Tab," Mayer said.
OintTag, a small circular sticker that goes on your phone case, makes it possible to share a link with a person without them opening their phone or typing out a link to a certain website or app.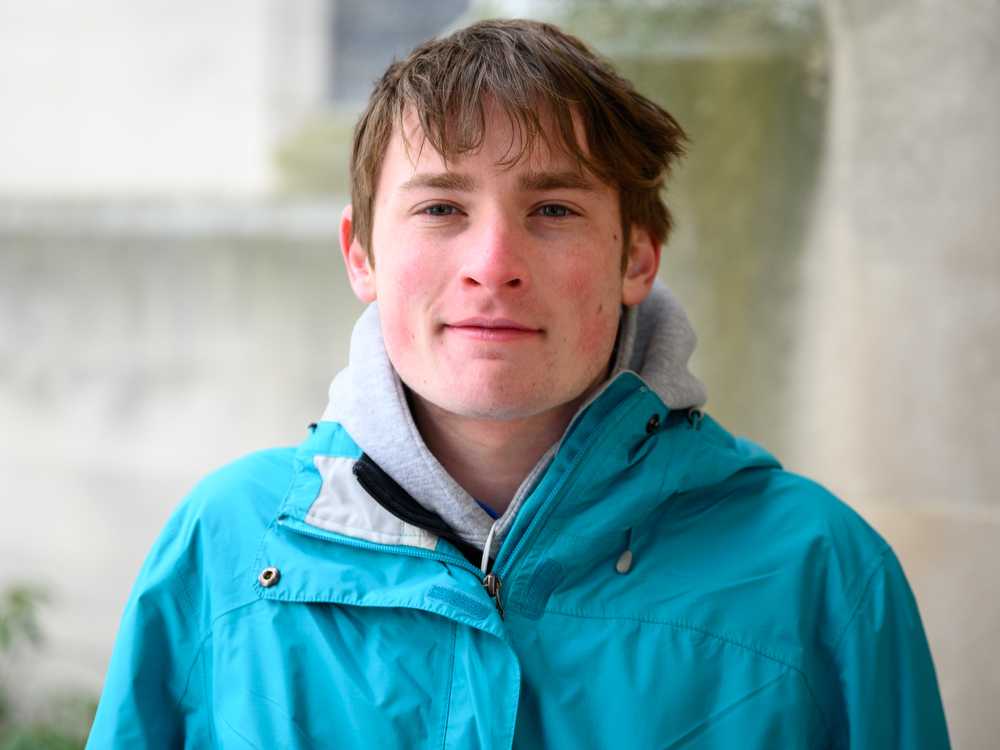 All it takes is one tap. An OintTag can be individualized and set up on the Oint website to personalize the link that is sent to other phones.
The OintTag uses a technology called Near Field Communication, the same mechanism as Apple Pay and Google Pay, which allows the chip inside the sticker to share information, but Mayer said "the way you use the tag is my software."
With the product already developed, Mayer now works with a team of advisors at the BUild Lab to further the growth of OintTag. From the Innovation Pathway at the lab, Mayer has received about $2000 of funding and other benefits.
"On that pathway, you can get money for each stage that you're at, and then you also get mentor coaching and access to events," Mayer said. "You can learn more about building a business, and getting funding and everything, all the tools you need to make those decisions."
This summer, Mayer was also accepted into the Summer Accelerator, a program out of BUild Lab and Innovate@BU. The program provides a $10,000 stipend to participants, according to the Innovate@BU website. Mayer said through the program he will live at Boston University over the summer and take part in a 10-week intensive program.
"I think I'm at the stage where I could really start taking it seriously," Mayer said.
Mayer started working on the OintTag during his senior year of high school and brought them to Boston University where he sold them to his new friends.
Through his connections at BU, Mayer has been able to pitch OintTag to companies for investment and to events to sell his product in bulk.
"It's just really surprising the rooms that I've been in just because of the BUild Lab," Mayer said.
Diya Gandhi, a sophomore in the College of General Studies, lives in the same dorm as Mayer. Gandhi said she remembers when she met Mayer.
"He was just showing me his OintTag and he was like, 'Tap this, watch what happens,' Gandhi said. "I was like, 'Oh, no way! You should start selling those.'"
Gandhi said she recommended Mayer change the price for the OintTag from $5 to $10 "because people will pay more."
"Honestly, he's like one of the reasons I switched my major," said Gandhi, who now plans on transferring from CGS to CAS to study computer science. She said watching Mayer pursue his passion "shows [her] to try things and it's inspirational."
Mayer was able to show his friends the potential for OintTag at the BUild Lab's Pitch & Pizza event where he won first place and crowd favorite for his one-minute pitch with OintTag. Since then, Mayer brought his friends together to help him sell his product at this year's IDEA Con which took place on Feb. 11.
Leilani Hoffmann, a freshman in the College of Arts and Science and a friend of Mayer, volunteered at IDEA Con to help sell OintTags. She said "it was really exciting," and the group sold a lot of OintTags.
"Being able to experience that alongside him and our other friends, it was really cool because we all got really excited about the idea," Hoffmann said. "Now I feel like I can look for something of my own to be passionate about and find meaning and purpose in pursuing something."
With plans to work at BU over the summer on OintTag, Mayer continues to meet with possible investors and wants to develop an understanding of customer needs.
Mayer said his work is "a double-edged sword" to stay motivated, but to also not "put a lot of pressure on yourself."
"But at the end of the day, this is what I enjoy doing, and so if I'm getting paid to do something I enjoy doing, that's the dream," said Mayer.