Boston University School of Law announced Feb. 21 that Supreme Court Justice Ketanji Brown Jackson will be delivering the convocation address at this year's commencement ceremony on Sunday, May 21.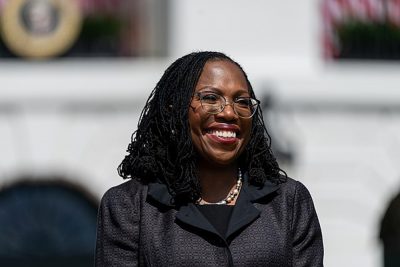 BU Spokesperson Colin Riley wrote in an email that "the University is incredibly honored that Associate Justice Ketanji Brown Jackson is coming to give the address at the School of Law convocation ceremony."
Some BU Students shared their excitement about Justice Ketanji Brown Jackson coming to deliver the convocation address.
Garrett Linderman, a third year law student in LAW, said he views Judge Jackson as a role model.
"[I was] surprised more than anything," Linderman said. "It was cool that it's not only someone with a familiar name, but also someone that's a role model and someone to look up to."
Linderman said he was especially excited about having Justice Jackson as commencement speaker because he did not have a graduation ceremony when he completed his undergraduate degree due to the COVID-19 Pandemic.
"I graduated undergrad during COVID, so I didn't get a graduation ceremony then," he said. "So it makes this experience even cooler."
Linderman said he would be interested in hearing Jackson speak about her experience in the Supreme Court so far as well as what she has learned throughout her legal career.
Robert Tsai, professor at LAW, said that he was "delighted that we can get someone of [Jackson's] stature" to speak at this year's ceremony, especially given that she was "such a historic pick at such a crucial moment in this nation's history."
Tsai said he hopes Justice Jackson offers advice that is both "optimistic" but also "realistic."
"I hope that the graduates will really treat it as a special moment, because I think the faculty certainly will," he said.
Liam Cronan, a third year law student in LAW, said he had an "exceptionally positive reaction" upon hearing that Judge Jackson will speak at commencement.
"It [was announced] the same week as news that we have the first BU Law Alum to be clerking for the Supreme Court since the 1980s," Cronan said. "I think it definitely came at an excellent time coupled with that news… and I think it is a sign that BU Law is doing very well."
Kaitlyn DeSouza, a senior in the College of Arts and Sciences and co-president of BU Pre-Law Society, said she was "impressed and super excited" to hear that Judge Jackson would be speaking at this year's ceremony.
"I think she will be a great role model for the law students," she said. "She's really someone to look up to, especially given her background as well in the legal field.
Caroline Grady, a second year law student at LAW, said she was excited about the announcement, as Judge Jackson is an "expert" in her field.
"I would hope that she would say something about the world that we, as future legal professionals, are entering, specifically how the legal landscape has so dramatically changed over the past 15 years," Grady said. "I want to hear [about] a practical path forward for young lawyers."