The following reports were taken from the Boston University Police Department's crime logs from Feb. 22-28.
Unwanted Person at 33 Harry Agganis Way
At 11:13 a.m. on Feb. 22, security reported a homeless person, described as white male disheveled with a beard and runny nose and wearing a brown open coat and gray sweats in the building. The party walked in, not stopping as requested, and walked out the rear door. Two BUPD units checked the area with no success in locating the party. Another BUPD unit was positioned at the BU Bridge area.
The party was eventually seen on camera walking into CVS at 900 Commonwealth Ave., but was not found there when units checked.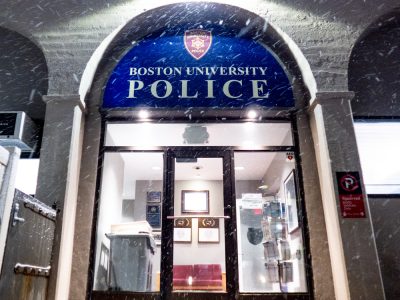 Suspicious Person at 595 Commonwealth Ave.
BUPD received an anonymous report at 8:30 p.m. on Feb. 22 of a male party asking questions to students, making them feel uncomfortable. BUPD units made contact with the party, and reported that the party was a student asking for directions.
Larceny over $1,200 at 575 Commonwealth Ave.
A party reported that his bike worth at least $1,200 was missing from the bike rack where it was locked. The bike was taken sometime between 8:45 a.m. and 12:27 p.m. on Feb. 23.
Fight at 967 Commonwealth Ave.
Boston Police Department requested assistance to BUPD with a group fighting with the staff at Paradise Rock Club at 10:41 p.m. on Feb. 23. The Boston Fire Department was also on the scene to evaluate a party involved in the fight. The patient refused treatment.
Suspicious Person at 771 Commonwealth Ave.
BUPD received an anonymous report at 11:40 p.m. on Feb. 23 of screaming in the men's bathroom on the fourth floor of the building. Officers made contact with the student who was yelling and reported that it was just a misunderstanding.
Intoxicated Party at 277 Babcock St.
At 12:12 a.m. on Feb. 25, a resident assistant reported a drunk affiliate in the women's bathroom on the eighth floor. BUPD's Armstrong ambulance was requested.
The affiliate was taken to St. Elizabeth's Medical Center via the ambulance. A BUPD officer confiscated a fake ID during the incident.
Well-being Check at 610 Beacon St.
A RA called BUPD at 11:53 a.m. on Feb. 26, saying a parent of an affiliate was concerned because they had not talked to their kid all day. The RA requested that BUPD go in with them. No threat of suicide or harm was mentioned by the RA, but they were unsure. An officer made contact with the party, who had overslept.
Noise Complaint at 509 Park Dr.
A caller reported loud music playing outside of the building at 12:51 a.m. on Feb. 27. A BUPD officer checked the area outside and around the location, but didn't find any loud music or a group being loud.
Unwanted Person at 890 Commonwealth Ave.
At 6:33 a.m. on Feb. 27, a caller reported that two homeless individuals were set up blocking the main entrance to the building. BUPD officers were able to get them to move along.
Larceny at 275 Babcock St.
At 6:39 p.m. on Feb. 27, a caller reported the possible past larceny of a BU-owned camera worth less than $1,200.
Narcotic Investigation at 700 Commonwealth Ave.
At 11:41 p.m. on Feb. 27, the smell of marijuana was reported on the seventh floor of Warren Tower's Marshall Tower. A BUPD officer searched around the premises but could not find any signs.
Larceny at 32 Harry Agganis Way
A walk-in party reported being the victim of blackmail at 5:23 p.m. on Feb. 28.