Six seconds remained in the game after Boston University senior forward Patrick Hazel sank his second free throw. The University of Rhode Island Rams scrambled to inbound the ball and tossed it to freshman forward Jonathan Holton, but BU sophomore guard DJ Irving snatched the ball and let the clock run out. The game was over. The Terriers defeated Rhode Island on Nov. 26, 2011.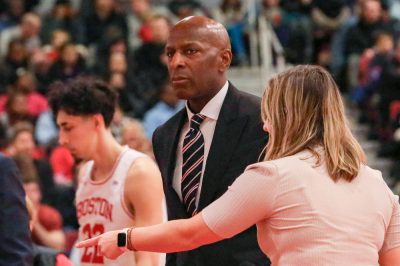 It was Terriers head coach Joe Jones' first win with the program, and one he still looks fondly on after 200+ more.
"It was a big win, beating an Atlantic-10 team," Jones said. "I do remember that game."
Achieving 200 wins with any program is not easy. It requires unwavering loyalty, demanding commitment and the ability to make tough decisions both on and off the court. Jones has finally reached that milestone, but not without making some difficult sacrifices.
"I've missed a ton of weddings because of basketball and the commitments that it takes," Jones said. "I miss family functions. I miss my kids, my kids' games at times … everybody knows [coaching] is stressful, but there's so many things that go on behind the scenes that make it a really challenging job."
Making genuine human connections with players, shaping them into the best players and best people they can be, reminds Jones why he loves coaching.
"I got a ton of text messages from former players [after the 200th BU win], and that was really cool," Jones said. "That even felt better than winning 200 games, just getting a text from a guy like Cedric Hankerson and John Papale and DJ Irving."
Growing up in an athletic family in New York, sports have always dominated Jones' life. His athletic journey started with football, playing running back and wide receiver. That changed when his dad put up a basketball hoop in the family backyard.
"Basketball became my passion," Jones said. "I just loved it … I just played a ton of basketball growing up and was always around the game."
A similar love for basketball would stir up in Jones's heart when he was 17 years old, but not as a player. He worked at an overnight sports camp for eight weeks as a counselor and basketball coach. 
"The first time I coached a team, I just got this feeling that this is something that gets me," Jones said. "The emotions from that first day having my own team was pretty strong."
Jones captured that feeling and used it to embark on his soon-to-be career as a college basketball coach. After serving as an assistant coach under the legendary coach Jay Wright at Hofstra University and later Villanova University, Jones spent seven seasons as Columbia University's head coach before moving to Boston College as an associate head coach in 2010. 
That last position didn't satisfy Jones. He yearned to become a head coach again, and he saw an opportunity the following year when Boston University announced that they were looking for a new men's basketball head coach.
"I was just really looking for the right situation," Jones said. "I wanted to go somewhere where there was more of a tradition of winning, a history of winning. And man, this job opened up and it couldn't have been a better fit for me."
Jones accepted BU's offer to become its head coach in June 2011. Two hundred wins later, he has no plans to leave BU anytime soon. 
"When this job opened, it was a no-brainer for me," Jones said. "This is where I would like to retire."
His fellow coaches feel the same way. Assistant coach Curtis Wilson, who said he's known Jones for nearly half his life, joined BU to help the team win games. In their 12 full seasons together, their relationship has grown beyond the normal bond of co-workers.
"I love him like a brother," Wilson said.
Both Wilson and Jones know that it takes more than a mastery of basketball fundamentals to win this many games with one program. Wilson credits this achievement to Jones' ability to empathize and care for his players as if they were his own family.
"If you care about young people," Wilson said, "you're going to connect with [Jones]."
Jones' players know about his passion for young people from their own experiences. Graduate student forward Walter Whyte said he believes that BU's success can be attributed to Jones' unwavering devotion to his players, which quickly became a mutual feeling.
"He'd run through a wall for me," Whyte said. "He knows I'd do the same thing for him."
What separates Jones from other coaches, Whyte said, is that Jones is more than a coach to his players. To Whyte, he's a "father figure." 
"He's always been somebody that I can always call and just rely on," Whyte said. "Having somebody grounded in your corner helps you to just come to practice, come to class, come to everything every day knowing that you got people behind your back."
Jones has always had his players' backs, and BU will always have his. He's already one of the program's greatest coaches, but he's an even better role model. He will forever be a Terrier, regardless of how many more games he wins.
"I love this university, man," Jones said. "Great coaches, great people and to be a part of that means a lot to me."