Spring is just around the corner, and I am flooded with motivation to be outside. I like to begin the spring season with a goal. Mine is to keep running. I have been competitively running cross country and track for seven years. Through running, I have learned how to properly set goals. 
Four years ago, as a high school student, I was looking for a way to track my goals and runs without the expense of buying a watch. After trying out a myriad of different applications on my iPhone, the one that stuck with me was the Nike Run Club App. 
As a freshman in college, I have moved on from competitive running to long runs on the Charles River Esplanade. Whether my goal is to run any distance at a leisurely pace, or to run under a certain time, I progress towards that goal while using the Nike Run Club App. From the moment my sneakers hit the pavement, I am ready to go.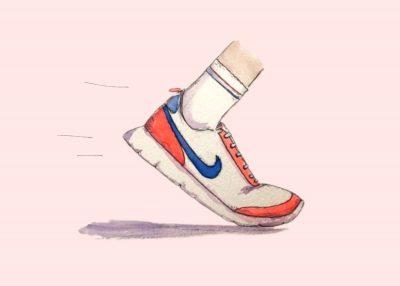 The app tracks a variety of data while I am on a run. I frequently check my pace on the app while I am running in order to keep my miles consistent because I tend to go too fast in the beginning. The more consistent my mile splits are, the more miles I am able to run. 
In addition to pace, the app tracks my distance and elevation, allowing me to input a specific mileage goal or run for any distance while tracking my location.
With this data, the app is able to give verbal feedback marking when I have completed each mile, what my average mile pace is, and when I have reached the halfway point of my run.
Most importantly, the app motivates users by offering 266 guided runs and additional training plans such as the "Get Started Collection," "Speed Runs," "5K Training Plan " and many more. The training plans allow a user to ease into running and work up to a personal goal. 
Running is more of an individual sport. As I track my runs through the app, I am able to compete with myself to reach my goals. The app offers a tab where you can add friends and keep track of each other's runs and accomplishments.
A beautiful place to run in Boston is the Charles River Esplanade. The Esplanade stretches three miles, while the entirety of the Charles River path stretches 22 miles. There is plenty of room for exploration and long runs.
Running is a huge part of my life as a college student. It releases endorphins, permitting the body to feel at ease and make space for a clear head in the quick pace of the city.
Running is versatile. It is not necessary to have a gym membership in order to run, and is an activity that can be done anywhere, anytime. 
The Nike Run Club App is a free tool to add motivation and balance into a daily routine. There is endless room for self growth and achieving personal goals when it comes to running.
It is important to never underestimate the power of consistency. There won't be new personal bests each time, and goals won't always be reached easily. What matters is getting out onto the trail and continuing strides to reach a particular goal.