TW: The following article contains graphic content and mentions of suicide.
Following the death of a 33-year-old Cambridge man who jumped from the 26th floor of 33 Harry Agganis Way on Feb. 15, Boston University students have questioned if BU has honored its commitment to provide adequate mental health resources and support on campus.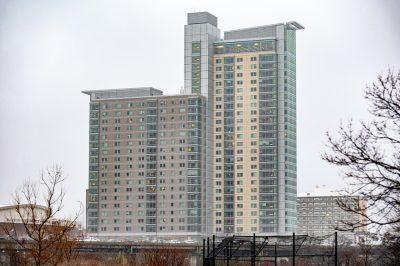 Residents of StuVi II received an email about the incident from Residence Life the day after it took place.
Since then, all BU students have received two emails — one from the Chief Health Office and one from Student Health Services (SHS). In the emails, BU offered services from representatives in Behavioral Medicine and Crisis Counseling and the University Chaplains Office to speak to StuVi II residents in need of support. 
Tami Gordon, a sophomore in the College of Arts and Sciences, said the University's two email responses after the incident at StuVi II were not enough.
"It [the emails] feels very much like the bare minimum and anything above that is more performative," Gordon said. "It's good to have it but sometimes it feels like it's there because they feel like it should be there, rather than there's a need from the students."
Gordon said they wished the email sent to StuVi II residents was also sent to other BU students, as everyone on campus is involved in the BU community.
"Even though we don't live [in StuVi II], there's still community on campus who will be affected by issues with security, issues with mental health and issues with suicide," Gordon said.
In 2021, BU students shared similar disappointments about the way the University handled an incident at 10 Buick St.
On Sept. 27, 2021, a fire at StuVi I caused residents to evacuate the building for around three hours. The University has still not released an official announcement or statement about the incident.
At the time of the incident and in the weeks following, many BU students said they received little information about the situation, some saying the University exhibited a lack of transparency regarding the circumstances of the evacuation.
Back in 2021, Ayanna Moise, a CAS graduate who was a senior at the time, recounted her experience in an interview with The Daily Free Press. Moise said she was passing by StuVi I when police arrived. 
"I did have a feeling that it was a real thing, I didn't think it was a [fire] drill," she said. "I could see the [police] cars on the left side of StuVi I, towards the Charles River … next thing you know we get a text [from our friend] that there's a detective and cops going inside."
Also in 2021, CAS graduate Angel Estrada said she saw former Dean of Students Kenneth Elmore at the scene. Estrada said investigators told students an "incident" on the seventh floor of StuVi I's east tower had caused sprinklers to go off. Moise added Elmore was telling students the evacuation was a "precaution."
"I figured it was really serious when I saw Dean Elmore come up," Estrada said. 
BU spokesperson Colin Riley wrote in an email in 2021 that there was, "a fire in a room on the east side of the building," which was confirmed in a report by the Boston Fire Department.
Estrada said that soon after the incident, her friend was told by a facility worker that there was more to the story than just a fire alarm. 
"I was told that there was a suicide attempt with some sort of carbon monoxide or propane in their room, and it just set off the alarms. I know that there was some injury because there were ambulances, and there was a stretcher," Estrada said.
Boston EMS arrived on scene, and the student was transported to a local hospital with no observable burns from the fire, according to the BFD Report. The report corroborated the alleged suicide attempt.
A student in Questrom School of Business and resident of StuVi I was a junior back in 2021. The student, who asked to remain anonymous at the time of the incident, said they were left concerned and confused after the incident. The student said they did not receive any alert about an evacuation.
The anonymous student added they were told by Residence Life staff not to spread rumors.
"It sounded like they were trying to keep the situation very hush-hush," the anonymous student said. 
Amanda Geist, a CAS graduate and senior in 2021, said BU can and should do better with providing more support for students, saying "something needs to be said for how unhappy students are here."
"They should be making a statement about high suicide rates and acknowledge what happened without disclosing details," she said. "We can't just pretend that people aren't unhappy, because that's how these things continue."
Kara Cattani, director of Behavioral Medicine at BU, wrote in an email that SHS "mobilized" to provide outreach to students who were connected to the February 2023 StuVi II incident.
"We provided a combination of crisis intervention counseling (professional one on one counseling) and less formal opportunities to gather peers and make space for concerns to be shared," Cattani wrote. "We also organized and had a half day presence, on site at StuVi II, to provide psychoeducation and information about counseling/support resources."
Cattani wrote that Behavioral Medicine is working closely with the Dean of Students Office (DOS) and that DOS is trying to come up with ways to improve BU systems to better support students.
"We are definitely still checking in on how students are doing after the traumatic incident in StuVi II," Cattani wrote.
Emma Lutz, a junior in CAS, said the University should have alerted the BU community with official information about what happened at Stuvi II before everyone started spreading rumors and assumptions that were not based on "real, solid information."
"When BU did finally say something about it, [there was already] time for rumors to start," Lutz said. "By the time [BU] actually sent an email … all it says is 'in light of an incident' and it's just 'here are your links again.'"
Lutz added the links felt "distant" and that she would prefer "an established office on campus" where students can reach out for help anytime.
"Those places exist, but I don't necessarily think that they are helpful," Lutz said. "At their core, all colleges are businesses, and so they will try and cover things up like this in order to get students to come."
Lutz said she believes the current SHS system, which requires patients to send a message and book an appointment on Patient Connect, does not provide immediate aid for those in a mental health crisis.
Lutz said she thinks the University's response to the incident felt like a way for administrators to "check off a box" to appease students. 
"This is a Band-Aid on a bullet hole," Lutz said.
Anne Gehrenbeck-Shim, a lecturer in the BU Department of Psychological and Brain Sciences, said death impacts people in different ways.
"I know that there was obviously counseling support and so forth available at the school, but I think it impacts people in different ways, either those visual images that someone's carrying with them, or if it reminds them of other losses or other significant deaths," Gehrenbeck-Shim said.
Gehrenbeck-Shim said she believes it is important to have "some sort of acknowledgment" about the incident.
Lutz said she believes that the mental health crisis is not just a BU problem, and said she hopes the University becomes more transparent about incidents that happen on campus.
"[BU should] be proactive about the problem," she said. "Make it loud and clear to your students that services are actually there and will help you."
Gehrenbeck-Shim added that anyone who is experiencing mental health struggles should not feel afraid to speak up.
"What I always try to remind people about is that there are supports available, and hopefully no one has to suffer alone," she said. "Just by letting somebody know that you care about them, that can oftentimes be such a vital first step."
If you or a loved one are experiencing suicidal thoughts, call the National Suicide Prevention Lifeline at 988 or 1-800-273-8255. You can find a list of additional resources at SpeakingOfSuicide.com/resources. 
Members of the BU community can also make an appointment with Student Health Services through Patient Connect, call their 24-hour line (617-353-3569) for mental health emergencies or get tips on addressing challenges at https://www.bu.edu/shs/behavioral-medicine/behavioral-resources/.
Madhri Yehiya, Chairwoman of the Board of Directors and Fall 2021 Campus News Editor, contributed to the reporting of this article.