As part of the city of Boston's Zero Emission Vehicle plan, electric vehicle charging stations will be posted in every neighborhood by this year, with charging stations to be installed in Allston, Dorchester, Hyde Park and Roslindale, according to a Boston Transportation Department spokesperson.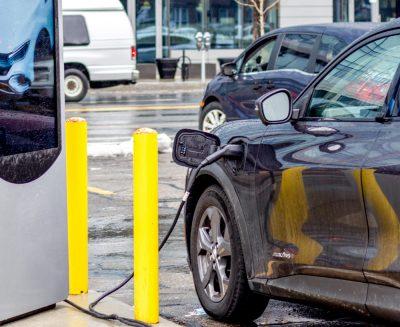 Boston's Zero Emissions Road Map, rolled out in 2020 under then-Mayor Marty Walsh, laid out several goals including "widespread adoption of electrification," "affordable, convenient access to charging infrastructure for all residents," and to "electrify the municipal fleet."
"Making charging accessible is sort of a huge part of the nut that we have to crack to reduce greenhouse gas emissions in the transportation sector," Anna Vanderspek, electric vehicle program director at the Green Energy Consumers Alliance, said.
Ideally, public transportation would take care of all problems, though, people who need cars should have the option to go electric, Vanderspek said. However, the lack of access to charging is "holding a bunch of people back."
"There's a lot of places in Boston where there's very limited parking, so in garages, alleys, that's where the city can provide more funding for those types of charging stations," Justin Hollander, an urban and environmental policy and planning professor at Tufts University, added.
According to a BTD spokesperson, the city hopes to have, "EV charging stations or EV car share options within a 10-minute walk of every household in Boston by 2030" and is currently adding EV charging stations to municipal lots.
Hollander said in Boston, where having a car isn't necessary to get around, the city has to be more "invested" in the infrastructure of bike paths, sidewalks and EV charging stations.
Hollander said most people charge their electric vehicles at home, but things might be more "complicated" for someone living in an apartment who may need to rely on a public charger station.
To ease the cost of installation, the Massachusetts Department of Public Utilities offers "make ready" EV programs, which cover the cost to bring electricity to a station and EBS rebates which reduce the cost to install the actual station, according to Vanderspek.
This support was "at a scale that we hadn't seen before," Vanderspek said. "The state-level stuff takes care of one more barrier that people in Boston are facing if they want to build out chargers."
Hollander said expanding the charging station network poses an "interesting policy conundrum."
He said electricity in potential locations is already in place and requires only a small investment in order to activate.
"Think of all the gas stations in the city," Hollander said. "Every single one of them could have one of those small adapters to connect to the outlet, and people could charge."
Mela Miles, director of transit-oriented development at Alternatives for Communities and Environment, said it's important to have a "universal rollout," to ensure all communities can have access to the chargers.
"Sometimes people want to call those necessities amenities and claim it such that a basic charging station near a person's home is an amenity. Then, all of the people who already couldn't afford and have the electric vehicle might block that area," Miles said. "But if it's a universal rollout, then everybody gets one."
Vanderspek said the federal tax credit has helped bring down the price of electric vehicles and also will help people in the used car markets.
"A lot of people buy used cars," she said. "By setting a steady upward slope for new cars that'll help us build up that market for used cars."
Vanderspek stressed that the next big challenge preventing people from switching to EVs is education.
"Education has to happen because people need to know that there is a phase-out of gas-powered vehicles coming down the pipe," Miles said. "What they would need to do is advocate, push for more charging stations, [and] to learn."