The state announced a training program on Feb. 17 to help local licensing authorities comply with federal laws, strengthen firearm inspection and prevent gun trafficking.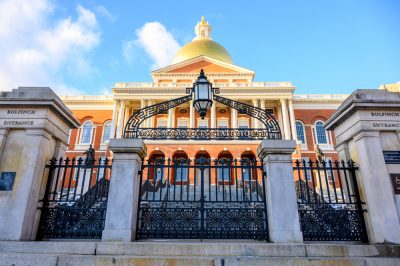 The program, called the Firearms Dealer Inspection Training for Law Enforcement, builds on Chapter 140 Section 123 of Massachusetts General Law that mandates annual inspections of firearm dealers. The training's goal is to educate local authorities with the knowledge of gun dealer processes and procedures, according to a press release.
"This new initiative will provide local authorities with the tools and training required to conduct timely and comprehensive compliance inspections to ensure all dealers meet their legal obligations," Governor Maura Healey said in a press release.
The training's curriculum includes a thorough review of inspection requirements, a guide to suspend or deny a license and how to administer and report violations, as well as how to do other miscellaneous tasks like record keeping and sales, according to the press release.
Organizations from across the Commonwealth — including the Municipal Police Training Committee, the Massachusetts State Police and the Bureau of Alcohol, Tobacco, Firearms and Explosives — developed the training, which 370 police officers have already enrolled in.
Ruth Zakarin, executive director of the Massachusetts Coalition to Prevent Gun Violence, said the organization advocates for legislation around gun violence and believes anything to strengthen those laws is "a good thing."
"I would say we have a robust department of laws related to how new concealers operate, how people are able to obtain a license or obtain a gun," Zakarin said. "Making sure that everyone is in compliance with those laws is very important."
Jim Wallace, executive director of the Gun Owners' Action League, said laws and regulations are so confusing that only a "handful" of qualified state workers completely understand them.
"Even with that, we constantly have debates with each other on what a certain sentence or section means or doesn't mean or how it's going to affect somebody," Wallace said. "Our mantra is 'don't be the test case.'"
Adding to the sentiment, Attorney Jason Guida, who specializes in firearm laws and regulation, said statutes in Massachusetts may be too convoluted for the public to understand.
"Inadvertently, I think the fact that they are organizing federal training kind of emphasizes the fact that maybe our laws are too complicated," Guida said. "Maybe our laws are too dense and difficult for just the law enforcement to understand, notwithstanding the average person that's trying to comply with them."
Guida also said training needs to prioritize teaching compliance to the firearm dealers rather than teaching enforcement measures to police officers and other law authorities.
"There's disputes as to whether [statutes are] enforceable or not and what they mean and how they mean it and what things you can sell [and] what you can't sell," Guida said. "I think there's an underlying issue with the way that we approach firearms regulation in Massachusetts."
Before he started his own law firm, Guida formerly worked as the director for the Massachusetts Firearms Records Bureau.
He said he gained insight into how department heads and chiefs from different parts of Massachusetts behave when he reached out to them about gun compliance laws.
"There is an argument to be made that the law should be applied equally across the board, and there should be some sort of standards that everyone is expected to follow," Guida said.
Both Wallace and Guida said there have been issues in the past regarding who has jurisdiction over local licensing authorities. Wallace said he was told repeatedly by the state that they do not have jurisdiction over local licensing authorities.
"Because we're the experts and we're the only stakeholders in this game, I really wish the state would reach out to us before they do anything like this," Wallace said.
According to the Firearm Mortality by State stats by the Centers for Disease Control and Prevention, Massachusetts has the second lowest rates of gun violence deaths in the country at 3.7%. Hawaii is ranked first with 3.4%.
Even with these statistics, Zakarin said, to completely eliminate the problem requires more than one solution.
"It's really a very complex issue that requires a complex and multi-layered response," Zakarin said. "We see our world continuing to agitate Massachusetts for us to really engage in those complex responses."