MyBU, a new platform to help Boston University students navigate their student accounts, will launch on March 6, replacing the homepage of BU's current student portal, Student Link. The entire Student Link will be fully updated in summer 2024.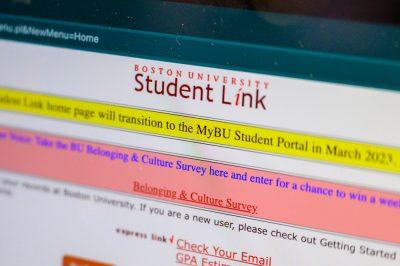 BU Students use the Student Link system to access their class schedules, pay bills, register for classes, view their grades and more. It was created in the 90s as a replacement for a telephone system. Student Information Systems has been trying to replace the Student Link for 12 years.
Tracy Schroeder, vice president and chief data officer at BU Information Services and Technology, wrote in an email that MyBU aims to provide students with a "friendly, convenient experience" when accessing online tools and resources.
"The main pro of the old system was that it worked reliably on a large scale and supported many complex processes," Schroeder wrote. "It was built to fit BU like a glove, but the glove fit 20 years ago and couldn't be altered at the pace of change today."
Schroeder wrote that the March launch of MyBU is the only "first view" students will see of BU's work to replace current student information systems.
MyBU is projected to be fully completed by the summer of 2024, according to the BU student information systems renewal program team. Until 2024, MyBU will gradually replace Student Link's pages and functions following the academic calendar to not interrupt student life.
Marylou O'Donnell-Rundlett, associate vice president of Student Information Systems, said BU wants to provide students with a better student portal without disrupting use of the current one.
"In the fall, we will start with admissions and financial aid…and then in the spring, we'll move on to registration," O'Donnell-Rundlett said. "We're very much following the student lifecycle and bringing up the pieces of the system as we go along to make it as smooth as possible."
Alexandra Bellerose, director of communications of BU enrollment services, said she thinks slowly introducing students to MyBU will give them time to become familiar with the new system.
Bellerose said BU students were able to attend drop-in sessions throughout the fall 2022 semester to make suggestions and incorporate ideas for the new platform.
"This was done with a lot of student feedback," she said. "We had a group of student testers actually come in and use the website and make suggestions and feedback and incorporate their ideas on what are the things that they use most or things that they have pain points at the University."
The project to replace Student Link began in 2017, according to Schroeder, who wrote that the new website's data center, hardware, operating system and database will be completely different from the original system.
"For now, when you click from a MyBU page into a function like registration, you will go back in time to the relevant Student Link page," Schroeder wrote. "In March of next year, that will change, and your MyBU portal experience will also become more personalized."
Interim Dean of Students Jason Campbell-Foster sent an email to the BU community on Wednesday, writing that the project is aligned with the University's priorities to, "use digital technologies to engage with students, support learning across colleges and operate more effectively and efficiently."
Some BU Students shared their opinions about the new MyBU Portal and the old Student Link website.
Kaahini Jain, a junior in the College of Arts and Sciences, said although the current Student Link looks old, it is still functional.
"I don't think [MyBU will] make that much of a difference. It's just the front page," Jain said. "I'm excited to see what it looks like."
Dana Mansori, a freshman in CAS, said she struggles to use the current Student Link system.
"[The current Student Link] is really hard to manage your way through and find the right thing," Mansori said. "I find myself looking up how to get to a certain specific page because it's really hard to get there from the main homepage."
Mansori said she hopes MyBU will be easier to navigate than Student Link.
"[MyBU] needs to be much easier and much more user friendly," she said.
Jonah Dickson, a junior in the College of Communication, said that he doesn't mind the current system, but has a difficult time navigating the tabs on Student Link.
"It just looks a little old and looks a little out of date to me," Dickson said. "Sometimes it's kind of hard to know where things are and just get around it."
Bellerose said she is open to receiving student feedback about MyBU when it launches next week.
"We're excited to see how students use this," she said. "Overall, we're just really enthusiastic about the response so far and excited to see how this evolves."