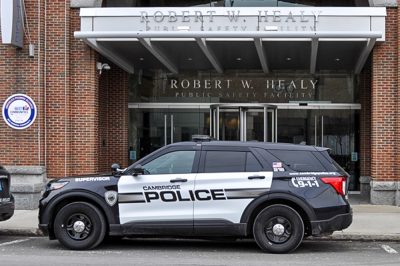 Sayed Faisal, a 20-year-old University of Massachusetts Boston student, was fatally shot by a Cambridge Police officer Jan. 4, sparking outrage and protests across the city.
"We really will only win through a mass movement," said Jeffrey Shen, MIT senior and organizer with Party for Socialism Liberation. "We can only grow from here."
The "cross campus student movement" largely organized by the PSL, has four demands: to release the names of all of the officers involved, release the unredacted police report, fire all the implicated officers and prosecute them to the fullest extent of the law, Shen said. The demands were created by the Bangladesh Association of New England, the PSL and through dialogue with the family.
Organizers are especially effective when they have "concrete demands for specific actors who have the power to effectuate those demands," said Katy Naples-Mitchell, director of the program in criminal justice policy and management at the Harvard Kennedy School. 
Seeing the Cambridge community "demanding justice" has been "incredibly powerful," said Fatema Ahmad, executive director of Muslim Justice League.
"I think especially for Cambridge as a city that sees itself as a progressive to have something like this happen, I think has really shaken a lot of community members," she said.
The Cambridge resident who called 911 said they saw a man leap from a window holding a machete. The weapon was later determined to be a kukri knife, according to a statement from the Cambridge Police. 
Police officers verbally engaged with Faisal and told him to put the knife down. Faisal "reportedly moved toward the officers while still in possession of the weapon," and was shot by a "less-than-lethal" sponge round, according to Cambridge Police.
According to the statement, an officer shot Faisal with their firearm after the sponge round "was unsuccessful in stopping Faisal."
Despite pressure from protesters, the name of the officer who fired the shot has not been released. 
"In most investigations, suspects' names are not released to the public until there is a high probability of criminal charges," Cambridge City Manager Yi-An Huang wrote in a statement. "While I understand the call for blanket transparency in all fatal police shootings, I believe that making a determination based on each case is reasonable."
Since Faisal's death, Shen said the PSL has held rallies including demonstrations in front of Cambridge City Hall and disruptions to the City Council. Most recently, protesters gathered Feb. 27 for a "teach-in" — a protest tactic where organizers hold lectures about the issue at hand — on the first floor of Cambridge City Hall. 
"It's a rally but there's also a teaching component to it as well," Shen said. "We talked about the role of policing in society and the structure of Cambridge City Council."
Cambridge residents are trying to change the city's approach to policing, Naples-Mitchell said.
"The questions that I think community members are asking of stakeholders are to think more broadly and more creatively about what the role of government could be in these kinds of complicated situations and not always resorting to a police response," she said. 
The Middlesex District Attorney's Office is conducting an investigation into Faisal's death, which will determine if criminal charges will be pressed, Cambridge Mayor Sumbul Siddiqui said in a statement. 
Siddiqui cosponsored three Cambridge City Council policy orders — introducing a third party investigator to review Cambridge Police Department policies, implementation of a publicly-accessible traffic stop, an arrest and citation police data dashboard and an increase in funding for mental resources — which have all been passed. 
While the city officials have been pressured to commit to reforms, Shen said statements from the mayor and city manager "don't address any of the core demands of the movement," and said he views such efforts as a "distraction."
"I think the city's response has focused mostly on what the law requires as opposed to how to make sure that something like this doesn't ever happen again," Naples-Mitchell said.
Organizers plan to occupy Cambridge City Hall March 13 until all four demands are met.
"This [the city's government] is a system designed to evade transparency," Shen said. "It's intentionally designed to obscure who actually has power, but we know that these demands can be met."