Brian Durocher has been the heart and soul of Boston University women's hockey since the inception of the Division I program.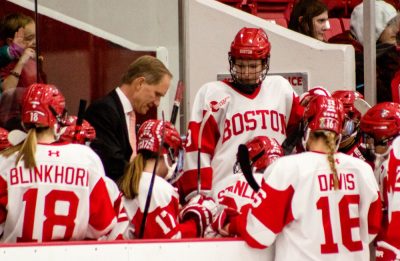 Durocher spent the last four decades in BU Athletics, both as a student-athlete and coach, and announced his retirement from coaching with the conclusion of the women's 2022-23 season. 
Serving as BU's head coach since the women's hockey program was elevated to varsity status in 2005-06, Durocher boasts a 338-215-76 all-time record and will continue to work at BU as a special assistant to the director of athletics.  
"I'm lucky that I've been part of BU and part of college hockey for 45 years, and I don't think I'll have any regrets with this decision," Durocher said. 
Since Durocher was a kid, the Western Massachusetts native wanted to be a part of something bigger. 
Durocher finally got his wish in 1974-75 when he joined the BU men's hockey team. During his freshman season, his goaltending talent was on full display — he strung together a 17-2-1 record and took home the Eberly Trophy for best save percentage at the Beanpot Tournament. 
Despite the accolades, Durocher felt lucky to even have made the team. The 18-year-old had joined a squad of seven other goaltenders all vying for a roster spot. 
"For me to come to Boston University was an unbelievably lucky situation… I never dreamed I would play," Durocher said.
After Durocher proved his worth, the team's success culminated in the 1977-78 season. The four-year letterman co-captained his team to a 30-2 record and helped bring home BU's third NCAA Division I national championship.
"Going into the national championship that year, we were somebody that got in there on a little bit of an exemption because we earned it," Durocher said.  "We won two games in Providence that got us a national championship. That will be probably my greatest memory ever."
After his playing career, the future was uncertain for Durocher, but he always felt he "observed the game well." Fresh off of graduation, Durocher used this natural talent behind the bench as assistant coach at American International College from 1978-80. However, he believed the door was closing on his coaching career. 
"I was moving to another chapter," Durocher said. "I was going to be in sales or in education." 
It was Jack Parker, the historic coach of BU's men's program and Durocher's coach, who pulled Durocher back to the game. Durocher returned to his alma mater from 1980-85 as a full-time assistant to Parker — his "supreme mentor." 
Durocher left BU in 1985 to join Colgate University's program as the team's primary recruiter, where he assembled a roster that reached the NCAA championship in 1990.
"Going to Colgate was a time when I had the chance to really learn by myself and either succeed or fail," Durocher said. "I like to think we succeeded. [Head coach] Terry Slater was a super mentor there." 
After his brief stints with the Red Raiders and Brown University from 1992-1996, Durocher made the easy decision to come back to BU. 
From 1996-2004, Durocher slotted back into the Terriers' men's coaching staff as associate head coach and recruiting coordinator before settling into his position with the women's team.
"I just said 'hey, I'm going to get on this bus and see if I can make it happen,' and I like to think we did a pretty good job," Durocher said. 
Over his 18 seasons as the women's head coach, Durocher continued to make a name for himself. He holds five Hockey East tournament titles — the most of any coach in the conference — produced six Olympians and coached five Terriers to All-American status. 
Most notable of all is three-time Olympic-gold-medalist Marie-Philip Poulin, who set then-program records in goals, assists and points and led the Terriers to four straight Hockey East tournament titles from 2012-15, all under Durocher.
Poulin was part of the 2010-11 and 2012-13 rosters that made it to the NCAA women's championship games, becoming the first Hockey East team to advance to the title game. She is one of 42 of Durocher's former players to play professionally. 
Durocher sits tenth all-time in wins among Division I women's coaches and led his Terriers to their first Beanpot title as a Division I program in 2019. An integral part of that championship was sophomore forward Jesse Compher, who assisted on the 3-2 overtime game-winner against Harvard. 
"That's probably one of my favorite hockey moments in my career still, and I've had a couple of big ones recently," Compher said. "There's nothing more special than being able to share that with [Durocher] after all the years of losses … to be able to bring back that Beanpot with him was something truly special and I'll never forget it."
A 2022 Olympic silver medalist, Compher spent four years at BU from 2018-2021 and was named captain in her final season. During her sophomore year, Compher broke out offensively, posting a career-best 61 points (17g, 44a) in 37 games. She continues to hold the record for most assists in a single season by a Terrier. 
Compher transferred to the University of Wisconsin-Madison for her final year of eligibility but continues to reflect on Durocher's commitment to "do anything" for his players. 
"I'll never forget, it was my sophomore year, and we were taking faceoffs in the center dot after practice," Compher said. "I didn't realize, but I kept hitting him with my stick because I was trying to win. The next day, he came to the rink with bruises all over his legs. Didn't complain once, he just took it and kept going."
During Durocher's final season as head coach, his 2022-23 Terriers fell short in the postseason but gauged success beyond the on-ice product.  
"We didn't win as many games as we wanted, but all through the year I talked about the W's and L's not quite in our measuring stick," Durocher said. "We had to make sure we were tremendous human beings, quality student-athletes that represented Boston University… this team did a fantastic job."
Durocher's final game came on Feb. 22 in the first round of the Hockey East tournament. The Terriers battled hard but fell 5-4 in overtime against Merrimack College. Senior captain Julia Nearis opened the scoring for the Terriers. 
"Coach D has always seen the good in people. He took a chance on me four years ago and has given me nothing but opportunities here at BU," Nearis said. "They truly don't make them like BD anymore, and I wish nothing but the best for him and his family in this next chapter."
At age 66, Durocher is still confident in his coaching abilities but discusses the human implications that come with age.
"I know I can coach hockey, but all the other things are a little bit of a challenge at a certain point versus when you're in your early to mid-40s," Durocher said. "I also wonder, when do you decide you're going to travel, or play more golf or be a spectator?"
Although his coaching career may be over, Durocher's dedication to BU Athletics remains untouched. 
"Boston University is hockey. Boston University loves hockey," Durocher said. "The best thing I can do for BU is make sure that people know how proud I am and appreciative I am for everything… anything I can do to help the athletic department [and] the university to send [that] message is super important to me."