"Creed" follows Adonis Creed, the son of Apollo Creed — Rocky's former opponent, trainer and friend. Adonis seeks mentorship from Rocky to prove he can fight in the heavyweight boxing category. "Creed" and its sequel, "Creed II," are game changers in the sports film genre. The third installment proves to be no different.
"Creed III" follows Adonis Creed — played by the magnetic Michael B. Jordan — seven years into his retirement after defeating Viktor Drago (son of Apollo's killer, Ivan Drago) in the film prior. He now runs a boxing gym, and his wife, Bianca (played by the wonderful Tessa Thompson,) is a successful record producer. The pair have a daughter named Amara, who is hereditarily deaf.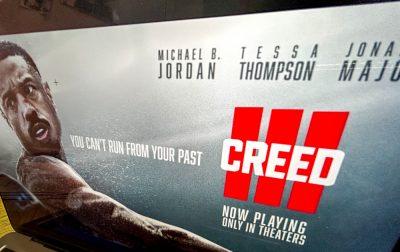 The plot thickens when an old childhood friend of Creed's emerges after an 18-year stint in prison. Damian Anderson (played by up-and-coming superstar Jonathan Majors) is looking to compete against Adonis to prove he deserves his title.
"Creed III" kept me at the edge of my seat, literally. No other film has done that in the months since "Top Gun: Maverick." 
The audience's connection with Adonis and Damian creates a situation where we want neither character to lose. Michael B. Jordan's directorial debut is masterful. The confrontations are directed with palpable intensity, forcing the audience to pick a side to support. 
The acting of the leading men elevates the film. Jordan portrays Adonis as someone who got to where he is with luck and nepotism, but ultimately his hard work earned him the heavyweight champion title. Majors, in particular, excels, depicting a man left behind in the past, surviving with boxing. 
Damian and Adonis' relationship is inspired by anime shows like "Naruto" and "Dragon Ball Z," which Jordan cited as his primary inspiration for the plot and fight choreography in the film.
"Creed III" feels independent from the other "Rocky" films. Sylvester Stallone is nowhere to be found, which helps Jordan shine as his own fighter. The mentorship he gained from the previous two entries puts him in a position of power and vulnerability. 
The fights in the film have improved with an energy seemingly never seen before in a sports film. The boxing matches have a unique feel — encapsulating a mix of slow motion, stylized cinematography and accentuated violence. 
Like most films in the sports genre, "Creed III" follows the same formula as its predecessors. It's predictable, and the pacing is abrupt — introducing multiple subplots that remain unresolved by the end. 
The film would benefit from additional time to flesh out the plot and give more insight into the characters introduced. The music score by Joseph Shirley differs from Ludwig Göransson's score in the previous two films. While certain tracks like the "Training Montage" were still incredible, Göransson's more consistent score was missed.
Still, "Creed III" is among the best in its league, offering audiences a sports film worth their time. Michael B. Jordan has established himself as a fantastic filmmaker, and I look forward to what his future holds.