The Philadelphia 76ers' radical rebuilding strategy is over, and they've been in a win-now mode for five seasons — none of which resulted in a conference finals appearance.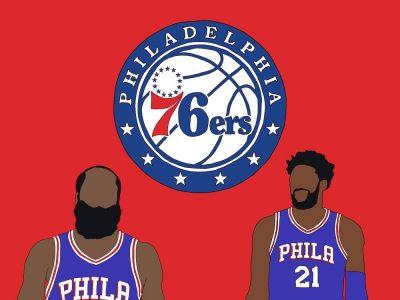 Some shrug off Philadelphia as a perennial tease that can't get it done in the postseason, and I find myself vacillating between two questions: do they have a chance to capture the team's first title in 40 years? Or will they crash out in the second round as they did last year and the year before? 
Right now, Sixers superstar center Joel Embiid is the NBA's most unstoppable offensive force. A soft shooting touch and high basketball IQ complement his punishing physicality. However, Embiid has been an elite player for several years now, and his team has nothing to show for it. 
In early March, the Sixers showed me why this year might be different while on the road against the Milwaukee Bucks.
The Bucks currently hold the league's best record and won 16 consecutive games going into March 4, when the 76ers executed a near-perfect fourth quarter to beat the 2021 NBA champions 133-130. 
I prefer teams who play a style in the regular season that is sustainable in the playoffs. The 76ers' comeback was led by Harden and Embiid, who both drained clutch three-point shots with less than two minutes remaining to give Philadelphia a lead they did not relinquish. 
Much has changed in the past 50 years of the NBA. There's better three-point shooting, superior athleticism and more efficient offense. However, one thing hasn't moved an inch: at the end of the game, the ball must be in the hands of a team's best player. 
The 76ers are fortunate to have that clutch-time leader in Embiid. The Friday after his crunch-time triple against Milwaukee, he hit a fadeaway mid-range shot to give the Sixers the lead with one second left in a win over Portland.
But what should the 76ers do if Embiid is guarded by two or three defenders late? Easy. Pass it to point guard James Harden, an elite scorer who was league MVP himself in 2018. He can combine his trademark stepback move with his career-high percentage from three-point range — nearly 40% this year. 
Aside from serving as a great late-game second option, Harden leads the league in assists and has conducted the league's fourth-best offensive unit. He has made the 76ers look like an offense with a game plan, as opposed to the jumbled mass of talent Philadelphia plodded along with in the past.
But the playoff x-factor for the Sixers is going to be combo guard Tyrese Maxey. Maxey is in his third NBA season and has surpassed Tobias Harris to become the 76ers' third-leading scorer with almost 20 points per game, right behind Harden and Embiid. Philadelphia needs his offensive spark and shooting to win the NBA Finals.
While the Sixers have had excellent production from star players in recent years, their atrocious bench has inhibited them from going further in the playoffs. That too is different this season.
The 76ers' bench now ranks ninth in net rating (which considers both offense and defense). That stat is encouraging, but I have to ask myself if they pass the Pat Riley maxim about playoff rotations: "Rotate eight, play seven, use six and trust five." 
Regarding the three top bench pieces, head coach Doc Rivers finally figured out that energetic hustle player Paul Reed is the best option at backup center. De'Anthony Melton has proven to be a tough defender who can consistently knock down a three. Jalen McDaniels brings athleticism and rebounding. For the first time, Philadelphia's reserve players pass their portion of the Riley test. 
Regarding the starters, the 76ers finally have five players they can trust to start and finish playoff games: Harden, Maxey, Harris, P.J. Tucker and Embiid. That lineup has the chemistry, offensive firepower, mental toughness, veteran experience and defensive capacity to beat anybody in the postseason.
The last factors on Philadelphia's side are urgency and desire. 2023 may be Harden's final year as a 76er, and who knows if Embiid will become disgruntled and request a trade if the team underperforms again in the playoffs. Rivers will likely be fired if the team fails to reach the conference finals; the same might be true of general manager Daryl Morey. This is now or never for this iteration of the 76ers. 
Their play over the last 40 games — in which they post the league's top record of 30-10 — has convinced me that this season will be now, rather than never. Since that slow start, they have surged up the standings and now sit tantalizingly close to eclipsing Boston as the No. 2 seed. 
To win an NBA championship, many teams have to overcome rivals who beat them in the past. Michael Jordan's Bulls had to get past Isiah Thomas's Bad Boy Pistons. LeBron James's Heat had to get past Tim Duncan's Spurs. To get over the mental hurdle, Embiid's Sixers must beat Tatum's Celtics. After they do, the Philadelphia 76ers will win eight more games and claim the franchise's first NBA championship since 1983.