The following reports were taken from the Boston University Police Department's crime logs from March 1-14.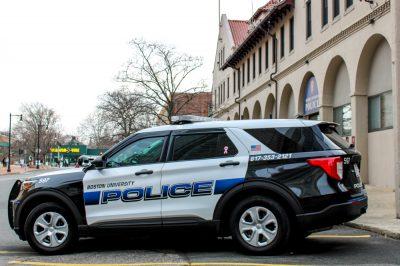 Larceny at 285 Babcock St.
On March 1, two scooters were stolen from inside the building. The first was taken between 9:30 a.m. and 12 p.m., and the second was stolen sometime between 12:30 p.m. and 2:43 p.m.
Suspicious Person at 775 Commonwealth Ave.
A custodian stated at 7:25 p.m. on March 2 that a male party would not leave the men's bathroom in the building. A BUPD officer was sent to conduct an FIO (Field Interrogation and Observation.)
Well-Being Check at 745 Commonwealth Ave.
At 7:36 p.m. on March 3, a caller reported that a party had been in the gender neutral bathroom for over two hours. The party was leaving when BUPD officers arrived, who spoke with the party.
Suspicious Person at 65 Pilgrim Road.
Simmons University PD saw a man hacking at bike locks in a BU garage at 1:09 p.m. on March 4. The man said that he worked for BU, but the Simmons officer did not believe he did. The party stated he was a contractor for BU, and the Simmons officer had him call his boss. The party was confirmed to be a BU contractor.
Well-Being Check at 575 Commonwealth Ave. and 775 Commonwealth Ave.
At 2:43 p.m. on March 4, BUPD received a call from a former student's sister who said she was supposed to get on a flight but did not show up to the airport and had not been heard from since the night before. BUPD could not find a local address for the former student. The former student's sister stated she may have been in the HoJo dorms, possibly with friends. A lower Bay State RA was contacted by BUPD, and they did not have a local address for her in HoJo. They did have a Warren Towers address that had been "canceled." BUPD Officers believed she dropped out this semester, and her family was unaware. The party was signed in as a guest to 700 Commonwealth Ave. at 8:44 p.m. on March 3, and signed out at 4:06 a.m. on March 4 according to ResLife Staff.
BUPD officers met with Boston Police officers along with the reporting party at 575 Commonwealth Ave. at 4:05 p.m. on March 4, and the BPD unit filed a report.
At 4:36 p.m., a party advised that the person may be inside 775 Commonwealth Ave. Officers located the party in the basement. A supervisor requested an ambulance, and one non-affiliated individual was transported to Beth Israel Deaconess Medical Center.
Threat to Commit Crime at 1 Silber Way
A provost office employee said at 10:58 a.m. on March 6 that the office was CC'd on a threatening email to a school at the University.
Shoplifting at 860 Commonwealth Ave.
At 6:34 p.m. on March 7, Brookline police reported shoplifting from Target. A BUPD unit checked the area but was unable to locate the party.
Hit Pedestrian at Buick St. and Commonwealth Ave.
A cyclist was struck at 9:28 a.m. on March 10. BPD and EMS were notified and arrived at the scene. One individual was transported by EMS.
Well-Being Check at 822 Beacon St.
At 7:14 p.m. on March 13, a caller reported hearing a female screaming in an apartment. The caller stated that when they went to see what was happening, a male answered the door and the female appeared to be distressed. BUPD units spoke with both parties separately, who both said the conflict was only a verbal argument. Both parties reported feeling safe.
At 7:41 p.m., the reporting party called requesting to speak with an officer, stating that they were concerned for their safety.
Suspicious Person at 8 St. Mary's St.
A caller reported at 5:18 p.m. on March 14 that a party was aggressively soliciting in front of the building. BUPD units checked the area and did not find anything.