In the spirit of St. Patrick's Day, Boston University's Agganis Arena hosted the Hollywood Fight Nights Boston boxing match on Thursday night, headlined by a main event featuring Wesley Tucker and Ireland native Callum Walsh.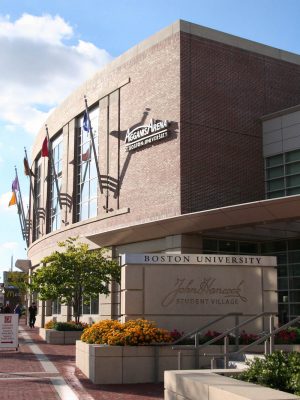 In addition to the marquee matchup, the hometown crowd was treated to seven Massachusetts natives in the ring. These Bay Staters were from Boston, Worcester, Brockton, Haverhill, Weymouth and Framingham.
In attendance at Agganis was Brendan Ryan, a local insurance agent who trains with some of the boxers that competed. 
"I go to a gym with two of the fighters tonight, Jonathan de Pina, and then I know Francis Hogan a little bit," Ryan said. "I've been training there for a couple of years, taking it a little more seriously. But the reason I'm here is to support them."
Ryan commended the fighters' dedication to the sport, having observed their practice habits firsthand.
"You've got to put a lot of time and a lot of work into it. It's a very grueling sport," Ryan said. "I respect those guys a lot from seeing them at the gym. They're there multiple times a day."
Also watching the event was the decades-long voice of the BU hockey team, Bernie Corbett.
"Lowell produced Micky Ward and Brockton produced [Marvin] Hagler and [Rocky] Marciano. You've also got one of the great stories of all time, from Fleet Street in the North End was Tony DeMarco," Corbett said. 
Corbett also mentioned Joe DeNucci, a Newton native.  The middleweight boxer also went on to serve as the Massachusetts state representative and as the Commonwealth's Auditor.
Thursday night was a celebration of a sport with working-class roots ahead of one of the most important days of the year to the Irish-American community. Corbett noted that this was his first live boxing event in the past several years.
"It's great to see [the boxing] tradition carry on here and have the opportunity for people to see some live boxing, and of course, the St. Patrick's Day implications of having a guy from Cork, Ireland," Corbett said.
The Boston and Irish pageantry was on display all night.
Irish music blasted through the loudspeakers. Bagpipes played between matches. Framingham native Danny O'Connor received a gift from the Boston Fire Department after his win against Luis Garcia.
In the main attraction, Walsh defeated Tucker with a second-round technical knockout. With the victory, the Irishman maintained his undefeated record. After the win, Walsh told the crowd that he would like to return to Boston and maybe even fight Francis Hogan, another ascendant boxer who defeated Jimmy Williams earlier in the evening. 
The Irish pride beaming through the arena was evident throughout the evening and most vivid during Walsh's triumphant victory. For just a few hours, a sport that is no longer as popular as it once was had a captive audience in the heart of BU's campus.
"It's great, an event like this. I can't remember the last time that there was a boxing event [in this venue]," Corbett said. "It was probably six, seven years ago, maybe longer. Time does fly when you're having fun, and God knows I'm having it every day."