Da Bears make winning moves
The Chicago Bears popped off like Jordan Poole when a baddie sits courtside. The moves general manager Ryan Poles made reaffirmed the team's faith in young quarterback Justin Fields.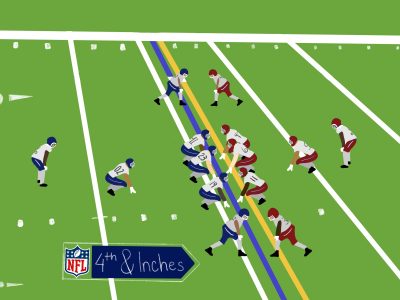 With a stacked quarterback class upcoming in 2023, the Bears could have replaced Fields during the draft after his subpar start in Chicago. With the No. 1 overall pick this year, the franchise had an opportunity to select a new quarterback to build around and a heap of draft capital and win-now pieces to surround them. 
However, that strategy is out the window.
Instead, Poles decided to trade that pick to acquire receiver DJ Moore from the Carolina Panthers. While the Panthers moved up to the No. 1 selection, likely to select a quarterback, they gave up a good amount of draft capital in the deal. 
In addition to Moore, the Panthers sent Chicago the No. 9 overall and a second-round pick in the 2023 draft, a first-round pick in 2024 and another second-round pick in 2025.
That is quite a haul for the Bears, who now have a star receiver to pair with their potential franchise quarterback. Although Fields has yet to prove his consistency, he hasn't had elite talent around him to help ease him into the league. Moore should certainly help Fields improve. 
In addition, the Bears added former Buffalo Bills linebacker Tremaine Edmunds. Edmunds, a first-round selection in 2018, has been one of the best linebackers in the league for the past few seasons. 
While he is sure to bolster the defense, it's also a genius move by the Bears. Chicago traded star linebacker Roquan Smith to the Baltimore Ravens prior to the 2022 trade deadline. In return, they received ample draft compensation. 
The Bears essentially swapped one elite linebacker for another and received a future second-round pick in the mix. That is genius. 
Chicago still has holes to fill. They finished the 2022-23 season with the worst record in the league. Building a competitive team won't happen overnight, but the Bears are certainly making moves trending in that direction. Even more impressive is that the Bears still have a load of cap space to make more signings. I'm excited to see what the franchise can accomplish with this new-look squad next season. 
Vegas bets the house on Garoppolo
The Las Vegas Raiders, after releasing Derek Carr in February, recently signed quarterback Jimmy Garoppolo to a three-year $72.75 million contract.  
For some of the teams rumored to be inquiring about Garoppolo, signing him wouldn't have made any sense. For the Raiders, however, it makes perfect sense. 
Who wouldn't want to move on from one subpar quarterback to another subpar quarterback? 
For a team that made a massive switch from Oakland to Las Vegas with the hopes of raking in money and rising in on-field success, this is a lateral move. If the team didn't have success with Carr, how do they expect to have success with Garoppolo? 
Part of what made Garoppolo so successful in New England and San Francisco was the quality of each team's offensive system. The Raiders don't have a solidified system in place to harness the full potential of him under center. 
Las Vegas is also in one of the toughest divisions in the league and will most likely need to earn a Wild Card spot if they want to make a playoff run. I don't see that happening with Garoppolo. 
While some have speculated that he will be a bridge quarterback while the Raiders develop a young quarterback selected with their first-round pick in the upcoming draft, it's a massive overpay for someone who will keep the team mediocre at best. 
Las Vegas has also had serious issues scouting high-level prospects through the draft. Almost all of their talent has come from a previous front office regime or through the trade and free agency markets.
If another team with a similar situation made this move, I would be shaking my head. However, since it's the Raiders, the acquisition doesn't come as a shock. 
The Packers trauma dump on the Jets
It's all but confirmed that superstar quarterback Aaron Rodgers will be a New York Jet when the 2023-24 season kicks off. 
The drama surrounding Rodgers, which has been stirring for what seems like years now, is likely to come to a close. 
At least for the Green Bay Packers. 
There's no doubt that Rodgers is one of the greatest quarterbacks the NFL has ever seen. He might have the best sheer arm talent of any quarterback ever. 
But last season was a bad year for Rodgers, both in the media and on the field. 
Rodgers has been the Packers' PR team's worst nightmare since he went on an ayahuasca trip last year. Sure, he won back-to-back MVPs in 2020 and 2021, but he had one of his worst seasons in the 2022-23 season. The Packers even missed the playoffs. 
However, Rodgers did show glimpses of the talent from his previous two seasons. It might still be there, and all he needs is a change of scenery to trigger that MVP-caliber play. 
The Jets have all the talent the Packers never surrounded Rodgers with during his tenure in Green Bay. Additionally, they added wide receiver Allen Lazard, Rodgers' teammate and one of his most trusted receivers over the past few seasons. 
When the deal finally gets announced, it could be a win-win for both teams. Despite that, I'm going to wait until I see Rodgers in a different shade of green before making any judgments on the winner and loser of this potential trade.