The Boston University women's basketball team fell in the first round of the Women's National Invitational Tournament to Rhode Island by a score of 46-40.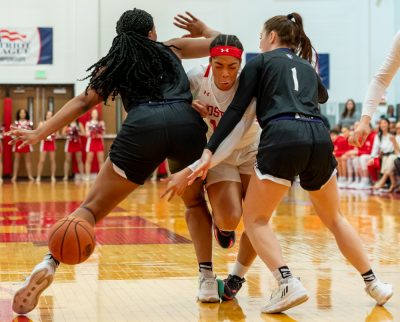 It was a cold day from deep for the Terriers (24-9, 17-1 Patriot League) who failed to connect from beyond the arc until the final seconds of the game, going 1-19 from three in the game. Senior guard Maggie Pina's 3-pointer with six seconds left made the first three for a team that ranks fourth in the nation in 3-point field goal percentage. 
Both teams had a hard time scoring early in the game, with the Terriers shooting 2-16 and the Rams (25-6) shooting 3-16 in the first quarter. However, both teams brought defensive energy early, with the Terrier's first points coming almost five minutes into the game. 
The Rams held BU to just four points in the first quarter. However, the Terriers quickly turned it around in the second quarter. They outscored Rhode Island 15-6 in the second frame. 
BU head coach Melissa Graves and other team members and coaching staff missed Friday's game due to University COVID protocols. Assistant coach Brianna Finch filled in for Graves. 
"We knew that as long as we were continuing to get good shots, and we can try to get the ball inside a little bit more and play to our strengths inside, that that would be good for us and to be able to try to play a little bit more inside out and attack the basket," Finch said. 
Despite missing Graves, the team stuck to what had gotten them to this point and continued to succeed in the paint. Junior forward Caitlin Weimar totaled yet another double-double, contributing 13 points, 15 rebounds and four blocks. 
Senior forward Maren Durant also had a strong game down low, scoring six points and hauling in seven rebounds. 
"We talked about if anybody was gonna match up well with [Rhode Island], that was going to be us, and I thought [Weimar and Durant] both did a great job," Finch said. "We outrebounded Rhode Island, which is something not many teams have done this year."
Yet, the vigorous defense of Rhode Island was just too much to handle for the Terriers, who turned the ball over 25 times, compared to just nine for the Rams. 
As the season ended, Finch was nothing but proud of this historic BU team. 
"Since day one, we've talked about leaving a legacy and the legacy that this group would like to have in this program," she said. "Every day, they worked toward that." 
Finch stressed the team's camaraderie. 
"They're a very close-knit group on and off the court, and I think their togetherness really showed throughout the season."