Boston University Student Government discussed and endorsed initiatives to create an official definition of antisemitism at BU, a task force focusing on the creation of a new Black student center and the survivor's bill of rights.
One of the first resolutions of the night was a proposal for BU to adopt the International Holocaust Remembrance Alliance's definition of antisemitism.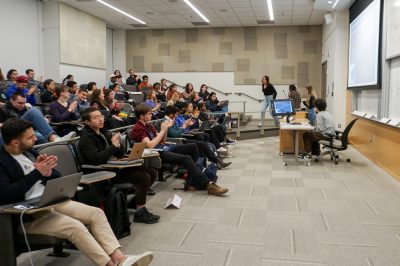 The IHRA definition of antisemitism is "a certain perception of Jews, which may be expressed as hatred toward Jews. Rhetorical and physical manifestations of antisemitism are directed toward Jewish or non-Jewish individuals and/or their property, toward Jewish community institutions and religious facilities." It has been adopted by 39 countries and approximately 30 universities.
According to Hillel International, out of all the private universities in the United States, BU has the largest number of Jewish students, with approximately 4,000, which is 22% of the population. Despite consisting of 2.4% of the U.S. population, Jewish people are the subject of nearly 60% of religiously motivated hate crimes.
Having an official definition would make Jewish students "feel heard, respected and represented," allow for clarity in defining antisemitism and make sure antisemitism can be recognized on campus, according to Dora Betts, member of the StuGov advocacy committee and sophomore in the College of Arts and Science.
One of the many students in attendance to show support for the bill was Mikael Rahmani, a junior in the Questrom School of Business. Rahmani shared his story as the president of Alpha Epsilon Pi, a Jewish fraternity on campus, and how an official definition of antisemitism would be helpful.
"A couple of weeks ago, we were subjected to very violent death threats on Instagram," he said. "We struggled through the view administration to get this defined as antisemitic, because there was no definition like this one to reference. So we ask both, yes, to give us a seat at the table, plus be able to finally use this definition as a way to move forward."
The definition was endorsed by StuGov with 33 votes.
The meeting continued with a presentation from the IMPACT committee about their next project, a task force for Black students.
Earlier this year, the IMPACT committee published a report about LGBTQIA+ student life at BU, saying that the University "lags behind many of its peers in providing LGBTQIA+ student support." In their report, they included a list of policy suggestions for BU to take regarding student life, which are in the process of being implemented.
Now, they are hoping to follow the same structure to support Black students on campus. IMPACT has begun working along the same structure of student surveys, comparative analyses to other universities and conversations with community members on campus in hopes of creating a new list of recommended improvements for BU to enact.
"When we did our LGBTQ Task Force, it took us about a year," said Michael Arellano, an IMPACT co-chair and junior in CAS. "So we're anticipating the same kind of timeline because we want to ensure that when we put out this report, it's a report that has just as much quality and just as much actionable plans as the last one."
IMPACT has started looking at comparable institutions to see what changes could be made. An avenue they are exploring is the implementation of a center for Black students like Tufts University's Africana center.
The Africana Center was "developed in recognition of the realities of the needs and concerns of the students of African descent on a predominately white campus" in 1969. It hosts events and programming that "reflect and celebrate the intellectual and cultural tradition of Black people in the diaspora."
StuGov members expressed their support for the new task force.
"When we had our meeting the other day, there was definitely a lot of enthusiasm from a wide range of Black student organizations," said Senator Kwazi Antwi, a sophomore in CAS, for the Unity & Social Quality Initiative Party. "And I would just like to thank you because like this something that a lot of Black students have been crying out for. And if it's found at other schools and Black students here don't have it, then it definitely does need to get done."
The meeting ended with an endorsement of the survivor's bill of rights.
The survivor's bill of rights, developed over the past two years, was inspired by the survivor's bill of rights at Stanford University and the University of Massachusetts Amherst and is designed to "address specific but consistent issues that came up in [Boston University] campus survivors reports."
"We're asking for some pretty common sense things," said Annie Mayne, a senior in the College of Communication who took the lead on writing the bill. "Survivors should not have their cases decided by people who have received zero training in what it means to work with someone who has experienced sexual trauma … they should not be waiting over 180 days to get a decision on their case."
Rights listed include freedom from retaliation and cross-examination from BU and freedom to discuss the outcome of their case without any limitation. The bill also listed proposed policy changes for the University to administer.
Certain policy proposals reference policies that already exist but are not "respected" by BU, such as stay away orders.
"Survivors will report that they've been even in classes placed with their perpetrators and the University does nothing," Mayne said. "So just calling out the fact that they're not being respected even though this is a policy that the University has outlined and created for themselves, is a huge issue."
Other policy suggestions include notifying all parties of any hearings or meetings they are required to attend in written or digital form and ensuring the minimum suspension duration for students found responsible of sexual assault extends the entirety of the survivor's time at the University.
An amnesty process for the use of alcohol or illegal substances for survivors and bystanders, in efforts to prevent fear of disciplinary action for reporting at the time of an incident, was also proposed.
Student government members praised the bill.
"This is genuinely one of the most beautiful and impactful things that you guys could do," said Chief Justice and junior in CAS, Ilana Keusch. "It is so necessary for every single person in this room, every single person on this campus to have this enshrined, signed by their representatives, approved by their representatives."
The bill of rights will be a living document that survivors can amend in the coming years.
"Passing it will be a way to hold BU accountable to the standards survivors feel necessary. And as representatives of your student body, it is your responsibility to ensure the University is actively protecting students, promoting safety and providing the best possible resources for survivors," Mayne said.
The survivor's bill of rights was endorsed by StuGov with 35 votes. It can be found here.