There are endless possibilities when taking notes on an iPad or tablet. I purchased an iPad and an Apple Pencil before entering my first year of college, and the efficiency of my note-taking took a turn for the better.
After purchasing my iPad I came across an app that changed my life. Notability offered me a smooth transition from physical notebooks and mechanical pencils to having a digital binder of notes.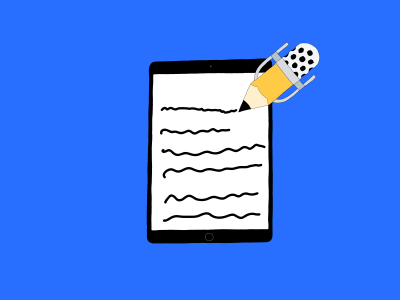 The app comes with a wide range of features at no cost, but to get the full Notability experience, there is an annual subscription fee of $12.99.
Notability has a gallery feature that allows users to publish anything from planner templates to notes to drawings you can share with others. This feature acted as inspiration and guidance when I used the app for the first time.
I picked four templates that were published by a user and made them my notebooks for the semester by downloading and handwriting the name of my classes onto the header of each. 
On the right-hand side of the app, there are tabs where notes are automatically filed, starting with "All Notes." Other tabs include "Recent Notes," "Shared Notes" and "Unfiled Notes." There is the option to customize the right-hand side by inserting additional subjects or dividers, which I use to organize and separate my notebooks by semester. A small yet notable feature is the ability to lock a subject with a password to keep certain notes private. 
With an Apple Pencil or stylus, there is access to endless colors and a range of writing materials by clicking on the toolbar within a note, such as pencils, pens and highlighters, all in one. 
A lasso tool is used to rearrange handwritten notes by drawing an outline around the writing and dragging it to anywhere on the page. Notability has the technology to transform handwriting into text with different fonts and sizes.
One of the greatest benefits of the app is the option to drag and drop diagrams, or images from online into a note. This enables me to specialize my notes in a way that brings more than just color but accurate visuals to bring my notes to life.
Notability provides the option to import PDF articles, sheet music or books from online websites, enabling annotations or close reading to be done. As a college student, this is helpful when downloading and uploading lecture slides so I can take additional notes on top of the existing slides.
My notes are synced across all my devices and accessible anywhere at any time. This is done by downloading the Notability app to my iPhone and computer and enabling file sharing.
Digital notes are the way to go in terms of its flexibility for editing, accessibility and organization.