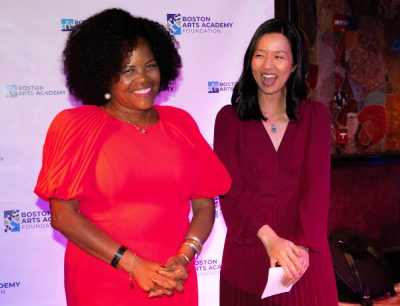 Mayor Michelle Wu and former Acting Mayor Kim Janey received this year's Champion Award during a reception on Thursday from the Boston Arts Academy Foundation, an independent non-profit organization that raises funds for the Boston Arts Academy. Previous recipients include Rep. Ayanna Pressley, former Governor Charlie Baker and Governor Maura Healey.
Denella Clark, the president and chief executive officer of the Boston Arts Academy Foundation, said the Champion Award was presented to Wu and Janey due to their artistic backgrounds and their commitment to art education.
"Both of them are trailblazers in their own right, and both of them believe so deeply and passionately in the arts … they also believe so strongly in urban education," Clark said. "Many of the students at Boston Arts Academy look like and represent both Mayor Wu and Mayor Janey."
Janey talked about her own background with the arts from her childhood as well as her relationship with the arts when she was mayor.
"I certainly come from a family of artists and I've really tried to use art to bring people together, to help our city heal," Janey said in an interview. "To be here to celebrate with an amazing school community, with the foundation, with so many parents and to see young people perform, it brings me back to my childhood."
Wu talked about how her background as a child of immigrants helped her develop a strong connection with the arts.
"The arts were the way to get past language barriers, the way to feel connected even through what felt like impassable cultural barriers," Wu said. "The work of the foundation does make it possible to not only create an opportunity for young people, but to breathe life into their fullest potential and impossibility."
The reception was also a fundraising event for the Boston Arts Academy as part of a six-year "Building Our Future" plan started in 2018 to raise $32 million. In five years, the BAAF raised $24 million.
"Many of the students look like me and I just felt it was so important to try to raise the money that is necessary so that our kids can really live a dream and do what they want to do," Clark said. "So what really brought me here was the students and really wanting to make sure they have what they need to be successful."
John Dozier, the institute community and equity officer at Massachusetts Institute Technology and the co-chair of the BAAF reception, said the reason for raising this money was to provide a space for young students to display talents that aren't "easily measured on the SAT or the ACT."
"[It's about] giving them the opportunity to be themselves, to learn to grow, to contribute to their environments, move on to college and succeed," Dozier said. "Boston Arts Academy does that in a really unique way which makes me really proud to be a part of it."
Wu said that she is trying to make Boston the "art city" across the country and, with the people at the Boston Arts Academy, it can be possible.
"The arts help us not only feel who we are as human beings, but to share that with the world and allow us to truly connect with each other in a way … this is a moment where we really need that sense of connection and community more than ever," Wu said. "The arts are the platform that we need across the city of Boston and beyond, and so I'm so thankful to Boston Arts Academy."