On St. Patrick's Day, Taylor Swift embarked on "The Eras Tour." If you missed out on the Ticketmaster fiasco in Nov. 2022 that stemmed widespread frustration among fans and brought Ticketmaster in front of Senate questioning, consider yourself lucky. I've been a fan of Taylor since I was 10, so I wasn't so lucky.
I was itching to see how Taylor would go through her illustrious career in a limited time through lyrics, instrumentation, choreography and visual production.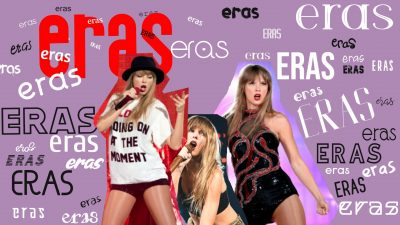 Somehow, during her first two shows in Glendale, Arizona, she showed us that it's possible. Here's my breakdown of the eras tour within the two setlists we've seen so far in order, as well as a hint of what her different eras have meant to me.
If you want to be completely surprised by your show, stop scrolling. 
"Lover"
I don't think any of us saw "Miss Americana & The Heartbreak Prince " coming as her opener. I'm not totally in love with it — I think "Cruel Summer" would've been better. There are other songs on "Lover" that are arguably better than the songs she chose to perform, but the beautiful production visuals make up for it.
It wasn't until the COVID pandemic when I was going through a breakup did "Lover" come to mean so much to me, which is strange, considering "Lover" is about the throughlines of finding your person and feeling fulfilled. But it came to be a healing factor, despite how empty I felt inside. The magic of Taylor Swift.
"Fearless"
No comments. No critiques. If she was going to dedicate some time to this period of her life, it had to be with "Fearless," "You Belong With Me" and "Love Story." 
The latter two songs were part of my childhood, as they were for many other people. "Fearless" is how it feels to fall in love for the first time. It means so much to my inner child that she played these songs.
"Evermore"
Despite all the jokes on social media saying that "Evermore" is her least favorite child, Taylor crushed those rumors and absolutely delivered. 
This album contains some of my favorite lyrics she's ever written, and her selection of songs to highlight this era — such as "champagne problems" and "tolerate it" — showcased that. These were deep cuts she catered to her die-hard fans. Immaculate. Chef's kiss. 
"Reputation"
Her choices to highlight this iconic time held no surprises, with three out of four being singles. The transition I've seen in short TikTok clips of her transition from "Don't Blame Me" to "Look What You Made Me Do" gives me chills. The choice of going into this era after the folk style of Evermore definitely threw me for a spin.
As a whole, I don't listen to "Reputation" often, but it's an album I've grown to appreciate greatly as I've gotten older. Plus, it's a great album to boost your self-confidence. 
"Speak Now"
Now, this is the part where it gets dicey. Taylor dedicating only one song to this era was very unexpected. But if she had to only do one song from "Speak Now," it had to be "Enchanted." And the dresses she's worn so far while singing this song are majestic. 
However, as someone whose first album they ever truly loved was "Speak Now," I'm a bit disappointed. If "Speak Now (Taylor's Version)" is her next re-release, I'll forgive her. 
"Red"
Again, the songs she chose to highlight her red-lipstick straight-hair era weren't surprises. I wish it wasn't mostly singles, since I think the majority of the magic of this album lies in the other songs, but that doesn't mean you can't dance to "22."
This album has its ups and downs, but that's what the point of the album is, with her mix of country and pop and themes of love and heartbreak all together in one piece of work. I love "Red" and I always will. 
"Folklore"
An album filled with lyrical storytelling, this section of the setlist is stunning with a mix of well-known singles and obscure tracks. I was pleasantly surprised she opened this era with "Invisible String." The visual portion was stunning, and I commend Taylor's ability to transition from a poppier era into full-on folk. 
This was another album that I came to appreciate more as I kept listening to it. It's hard to argue when people say this is one of her best pieces of songwriting.
"1989"
Opening this era with "Style" is genius, and I'm so glad she's still playing it live. A masterclass in how to perform great pop music, I had little complaints about the tracks she chose for "1989."
One of the beautiful things about Taylor's rereleases is being able to refind a love for an album again. Admittedly, I don't have too many memories or nostalgia attached to the original release of "1989," but I'm excited to make new memories when the re-released version comes out.
Surprise acoustic songs
I love the idea of two surprise songs every night, and with her discography, she won't run out of songs to play. I also have always believed Taylor is at her best when she's singing acoustically. 
However, her debut album doesn't even have its own section, with "Tim McGraw" being played during the first night as a surprise song. Come on, Taylor. At least give us "Our Song."
"Midnights"
Last but not least, she has to end with her most recent album. Say what you want about "Vigilante Sh—," but the choreography with the chairs is stadium-worthy. While I wasn't initially in love with "Karma" being her last song, I thoroughly like it now. She looks so happy in the videos I've seen, dancing around in her beads, crystals and shine. You go, Taylor. 
The editors last semester ranked "Midnights" the night it was released. I'll have to let this album marinate before being able to reflect on my own personal connections to it. 
In conclusion
It's impossible for an artist with such a vast discography like Taylor Swift to curate the perfect setlist that will make everyone happy, but she did a pretty fantastic job with this one. Also, the show is three hours and 15 minutes long, with 44 songs. That's incredible within itself. 
I'm excited to see how the overall setlist, outfits and performance evolve as she continues touring. Most importantly, if anybody has tickets to her shows at Metlife Stadium in New Jersey in May — or even at Gillette Stadium in Massachusetts, because who cares about commencement — please let me know.