This past month Boston University's Pickering Educational Resources Library, located in the Wheelock College of Education & Human Development building, created a "freadom" shelf — a banned books display in response to a surge in book bans throughout the United States.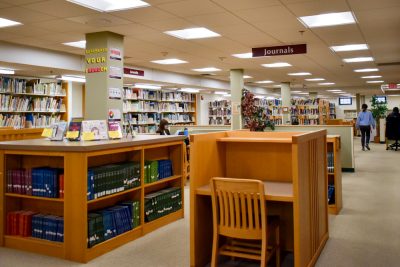 Pickering Library's freadom shelf features books that have been banned in other libraries across the U.S., such as "The 57 Bus," "And Tango Makes Three," "All American Boys," "I am Jazz," "Drama," "Beyond Magenta" and more.
Madeline Colker, a services assistant at Pickering Library, said that since "hundreds of books get challenged or get banned every year," she hopes the display will act as an educational resource for others and a promotional resource for these books.
"We really wanted to bring awareness not only to the rise of book bans recently in America, but also just how many of the books we have available at Pickering," she said. "I don't really think you should ban any books … especially within an academic library."
Colker said that she and her colleagues put up the display about a month ago and plan on rotating the books showcased. The books picked to be displayed were pulled from other school libraries that banned or challenged them.
The books on the shelf in Pickering Library showcase LGBTQ+ stories, express political viewpoints or confront controversial topics, telling stories "outside of mainstream culture," Colker said.
"They tell queer stories, they tell stories about race in American history and stories for people of color and those voices are disproportionately on the banned books list," she said.
Colker said she believes banning books that spotlight marginalized voices demonstrates a trend of limiting civil liberties.
"Parents and political groups are showing up at school board meetings and declaring these books should be banned," she said "Having such free access to these books that are challenged is great to highlight."
Some BU students and BU student library employees shared their thoughts on banned books and the display at Pickering.
Stefania Moldovanu, a junior in the College of Arts and Sciences and a student employee at Mugar Library, expressed her disapproval of banning books in libraries.
"I honestly don't believe that any books should be banned," said Moldovanu. "Every book, no matter how controversial it is, deserves to be read."
Shailen Savalia, a freshman in Questrom School of Business, said Pickering Library's display is a good way to bring more awareness to banned books.
"It kind of gives an opportunity for students to read these books that they wouldn't have in other situations," Savalia said.
Savalia also said he believes that information, specifically when it comes from books, should be publicly available.
"I think books are banned because people get scared of ideas that don't align with theirs," he said. "It mostly comes out of a place of fear."
Edward Driscoll, a freshman in CAS and operations assistant at BU's Howard Thurman Center, said he believes banning books is a "manifestation of censorship" and that information should be free to everyone.
"My middle school had 'Uncle Tom's Cabin' banned," Driscoll said. "I wouldn't say it was an enjoyable read, but I would say it's a necessary one."
Driscoll added that he thinks that other libraries and locations on campus, like the Howard Thurman Center, should follow in Pickering's footsteps by adding banned book displays of their own.
Colker said she hopes Pickering's display brings more attention to commonly banned books.
"I don't think the display will be up forever, but I'm really excited that we can bring some awareness to it and have people come by and check it out and read these books and see the reasons why they're getting banned," Colker said.