When Paul Dalba was about 10 years old, he got a telescope as a gift — "The rest is history," he said.
Dalba, a Boston University Graduate School of Arts and Sciences alum who graduated with a doctorate in astronomy, is now an astrophysicist. He said he mainly explores "cool" gas giant exoplanets, planets in other solar systems similar to Jupiter and Saturn in terms of size and gaseous makeup.
To continue his work with exoplanets, Dalba earned the Heising-Simons 51 Pegasi b Postdoctoral Fellowship in June 2022. The fellowship is offered through the Heising-Simons Foundation, a family foundation based in California.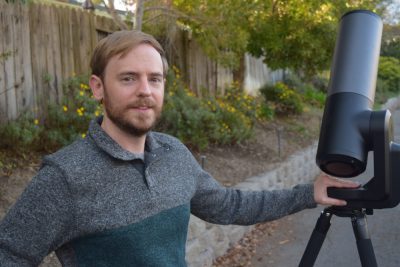 The fellowship gives postdoctoral scientists an opportunity to conduct research in astronomy. It provides up to $385,000 of support for independent research, the "time and space" to become established in the field of astronomy, an annual summit and a mentorship from a faculty member, according to the Heising-Simons Foundation website.
The  is "named after the first exoplanet found around a sun-like star back in 1995," 51 Pegasi b, Dalba said.
The discovery of 51 Pegasi b "blew open everything," he said. The planet is bigger than Jupiter, but it has an incredibly close orbit to its star that had not been seen before.
In his fellowship, Dalba uses a mix of his own experiments and other data — for example, NASA exoplanet discovery surveys — to further explore the galaxy.
"I'm constantly pulling down test data, seeing what's there and then going to telescopes that are located all over the place — northern hemisphere, southern hemisphere, U.S., non-U.S.," Dalba said. "[I'm] trying to follow up these planets, learn how big they are, learn how massive they are, make inferences about what they're made of and then telling the full story from there."
Broadly, Dalba looks at how our solar system compares to others around the galaxy.
"Being able to put together how giant planets form in planetary systems, what they're made of [and] what is the full story of the giant planet, offers a really important context," Dalba said.
Dalba said with citizen scientists, collaborations between scientists and the general public, he works with people in Europe, Hawaii, Japan and the Middle East. He said it's "amazing to bring more people into the scientific process."
"We're actually using the power of global crowdsource astronomy to make new scientific discoveries," Dalba said. "Turns out that's been a little bit of a challenge in my field of cool, giant exoplanet studies that we're now starting to overcome."
Dalba said that BU helped him identify his niche within the field, as well as develop expertise in both astrophysics and planetary science, rather than just one of the studies.
Philip Muirhead, an associate professor in astronomy and the associate director of the Perkins Telescope Observatory, said he was unsurprised by Dalba's new fellowship.
"He deserves it," Muirhead said. "He's been going in new directions, taking astronomy in really interesting directions and he doesn't really follow what other people do. He's developing his own ideas."
Muirhead said that during Dalba's time at BU, he was always submitting new ideas and he even wrote a sole-authored paper, which Muirhead said is "unusual" in the field of astronomy.
Paul Withers, a professor of astronomy and the director of graduate studies for the astronomy department, said that Dalba "definitely has made the most of the opportunities that he has found for himself."
Muirhead said that if students want to pursue research opportunities after higher education, they should follow Dalba's example.
"When Paul [Dalba] was a graduate student here, he was using all the telescope resources we had for his projects," Muirhead said.
Withers said the department is "excited to see what great things [Dalba is] going to do next."
Dalba said he hopes more people look for ways to get involved in the scientific field.
"Sciences, you know, can be an intimidating field because you generally have to get some degree or several degrees to get into it," Dalba said. "That can be intimidating … I always encourage people to just see where you can get involved."