In last week's column, I discussed how boxing was starting to produce big fights again with optimism that the trend would continue.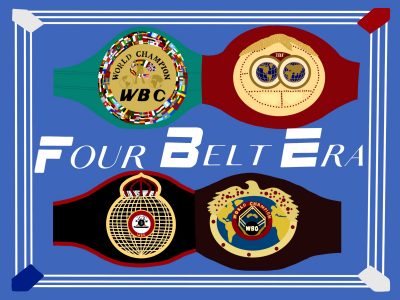 But here I am, a week later, writing about how that optimism has dwindled.
I concluded last week's column by mentioning the potential for Tyson Fury and Oleksandr Usyk to fight for the undisputed heavyweight championship at the end of April, adding to a stellar spring fight lineup.
But unfortunately, one of those spring fights has since been delayed. ESPN's Mike Coppinger reported that Naoya Inoue "suffered an injury in training," postponing his once-upcoming May 7 fight with Stephen Fulton. Fulton reassured the disappointed fans by tweeting, "We got a date relax it's still happening."
With the postponement of Inoue vs. Fulton, hopefully Fury vs. Usyk can get across the finish line and strike a deal.
But no! Talks for the April 29 fight are now "completely dead," and the fight is not happening, according to Usyk's promoter. Fury's promoter also confirmed that the fight will not be happening on April 29 but expressed hope that the terms could be renegotiated.
Good ole boxing strikes again! But how did we get here? Who is to blame?
In short, talks for this fight ramped up this past December at Fury's most recent fight. After defeating Derek Chisora in the 10th round, Fury called Usyk into the ring.
Negotiations for the fight were relatively quiet in the months after the callout until Fury claimed Usyk was seeking a 50-50 split of the purse.
Fury then took to Instagram to reject Usyk's proposed purse split, claiming that he was only worth 30% and said, "you either take it or leave it."
Frankly, getting only 30% as the unified heavyweight champion is ridiculous. Yes, Fury is the bigger draw of the two, but it's still an unfair split.
Almost shockingly, Usyk called Fury's bluff and took to social media, saying he would accept the 70-30 split in favor of Fury if he promised to donate £1 million to Usyk's home country of Ukraine following the fight.
Bingo! The fighters agreed to a purse split. Next stop, fight night: April 29! 
But no! Fury came back saying he wouldn't agree to the fight if a potential rematch clause would include the same 70-30 payout split, but in Usyk's favor.
Now, flash forward to today. The fight isn't happening.
This is extremely disappointing. Just when boxing fans were gaining optimism about boxing being "back," we lose a historic fight.
No fight is bigger than when the undisputed heavyweight championship is on the line. Certainly in a physical sense, but in terms of getting eyes on the sport, it's a massive lost opportunity. We haven't seen an undisputed heavyweight champion in over two decades, and none in the four-belt era.
I believe the blame falls on Fury. He probably didn't think Usyk would accept a ludicrous 70-30 split, but he did. And when Usyk did, Fury had an issue with the same inane payout scheme in the event of a rematch.
What's even harder to fathom is that Fury is favored by many in the potential matchup with Usyk. Fury, at 6-foot-9, is six inches taller than the 6-foot-3 Usyk. Fury also has nearly 50 pounds on Usyk, with the two recently weighing in at roughly 269 and 222 pounds, respectively. Fury also has a seven-inch reach advantage over the smaller Usyk.
Despite all the physical advantages, Fury still found a reason not to sign the contract.
As both men now look past each other, fans must sit back and wait, hoping that at some point in the near future, these two will meet.
Will it still be for the undisputed championship? It might not be. Will both fighters still be at their peak when/if we see this fight? Maybe not. Will we never see this fight? There's a chance.
Let's just hope that it doesn't drag out as much as Errol Spence Jr. and Terence Crawford's negotiations have. Boxing as a sport can't afford to continue to lose these opportunities to make history.