"Leaves are falling all around
It's time I was on my way
Thanks to you I'm much obliged
For such a pleasant stay
But now it's time for me to go
The autumn moon lights my way"
Parry Headrick, the founder of Crackle PR and a BU alum, "slapped" a note with this Led Zeppelin quote on the fridge before he hitchhiked across the country at the age of 16.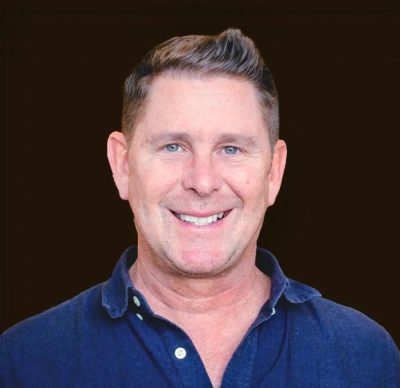 Now, with over 46,000 followers on LinkedIn, Headrick is referred to by "Customer Engagement Insider" as a "famed PR expert" and by "Medium" as a "public relations influencer."
Headrick hitchhiked for a year and a half from Boston to Florida to Seattle.
After Seattle, he went to Los Angeles where he sold shoes in a mall for a year. Then, he decided to take the General Education Development Test, a test which indicates whether someone has a high school level education, according to the GED Testing Service website.
"What I knew is that, if I didn't get an education, I would be bored to tears doing a very menial job that I would hate," Headrick said.
With his GED, Headrick got into Northern Essex Community College where he wrote his way up to editor-in-chief at the student newspaper.
He wrote a series of stories to address the issue of unequal treatment of students who are part of the college's English as a Second Language program. The series resulted in a revamping of the program and a Los Angeles Times story of the year award for Headrick, which he said he believes contributed to his acceptance to BU.
"That was the beginning of me pivoting into more of a mainstream productive member of society after a rocky chapter," Headrick said.
At BU, Headrick continued to write while working full time. After graduating with a degree in journalism in 1998, he went straight into the field as a reporter for the Lowell Sun in Lowell, MA.
Headrick said he enjoyed the adrenaline rush and "frantic" energy of his days as a reporter.
"Sometimes you would cover two to three stories in a single day, and you're on deadline, and you have to get the facts right," he said. "You have to spring into action and just focus with the white hot intensity of 1,000 suns on getting that story done."
However, early on in his career, Headrick decided to change his path.
He said he wrote a "straight news story" about a boy with a rash over his body believed to have been caused by toxic chemicals dumped in his backyard.
"I gained the trust of the family, and the mother let me into her home, and let me actually take pictures of the boy who was 11 or 12," Headrick said. The mother asked Headrick to treat her son with "dignity and respect."
Headrick said he promised the mother, "Of course I will."
The story was set to be the lead story on the Sunday paper.
"I was really excited to see the story because who doesn't want to see their own byline especially on the front page?" Headrick said.
When he got his copy of the paper, he said he saw the headline — "'Toxic boy's' illness still a mystery."
"As if somebody had said those words, and nobody had said those words," Headrick said. "It wasn't in my story, no one had ever called him 'toxic boy' and yet my newspaper headline writer decided to label this child who was ill, 'toxic boy.'"
Headrick described the moment as "a very, very big slap in the face" and said the family would not speak to him again.
"At that moment, I thought journalism is heading in a place that I don't know that I want to be, which is all about sensationalism to get the people to buy the paper or to get the click," Headrick said. "I just thought … I think I might want to switch horses and use my communications and writing skills in a way that isn't as sensational and also could make more money. And that was how I got into PR."
After working at different PR companies over the years as account manager or vice president of marketing, in August 2020, Headrick finally decided to found his own PR company, Crackle PR, a remote technology PR agency with about 15 people and no physical office, he said.
Emily Shuler, a senior account manager at Crackle PR, discovered Headrick was hiring on LinkedIn after he showed up on her feed.
"I really liked his down and dirty approach to public relations," she said. "So I decided to message him and here we are."
Morgan Mitchell, account manager at Crackle PR, was also a follower of Headrick on LinkedIn before she joined.
"I left one job to come work at Crackle and I've definitely felt that's a good decision because, as you get to know [Headrick] more, you just see more layers to him," she said.
Shuler described Headrick as "straightforward," "forward-thinking" and "warm."
"[Headrick] is a really unique leader, especially in the PR industry," Mitchell said."I've had several jobs in PR in the past and this is a really unique team environment. I think [Headrick] is a big part of that."
Hendrick said PR never gets boring.
"It's different every day and you never know quite what you're going to get," he said. "I think it's that kinetic energy that I crave."