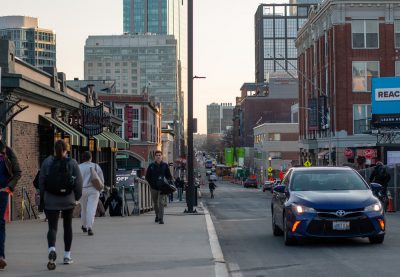 New restaurants, retailers and venues are opening in the Fenway neighborhood in Boston over the next 30 days. The new businesses are being opened by the development firm Samuels & Associates in an effort to continue providing a "high-quality experience" for Fenway residents and visitors.
Samuels & Associates, a Massachusetts-based real estate developer, is responsible for curating and leasing more than 250,000 square feet of retail space within the Fenway community. Some of the new businesses it's opening include Solidcore, Rockwood Music Hall, LaserAway, Citizens Bank and Bartaco.
"The Fenway is constantly evolving and these new concepts, along with our long-time favorites, enrich the experience for everyone in the neighborhood," said Peter Sougarides, principal at Samuels & Associates, in a press release. "We aim to curate a place where people are constantly finding something new, diverse and compelling." 
A number of restaurants are also slated to open, including Tasty Burger's new location on Van Ness Street, Eventide's reopening after a winter construction period and some new concepts at Time Out Market, according to the press release.
Rachael Diharce, vice president of retail leasing at Samuels & Associates, is responsible for selecting which businesses to lease retail space to. Diharce said the process for the selection is to survey the neighborhood and evaluate what the residents of the community want.
"Over the course of the last 12 to 18 months, obviously now out of the pandemic, everybody is very eager to have their service needs met," Diharce said. "Whether that's nails or facials … health and wellness is really extremely important to the residents."
LaserAway and Solidcore are two of the wellness-focused businesses being opened by Samuels & Associates. Diharce said the amenities from LaserAway and the smaller classes from Solidcore are being enjoyed by Fenway residents and as a result are performing "very, very well."
Carly Biron, head coach and community manager of Solidcore Fenway, said many students come to Solidcore classes and she wants more people to sign up for classes.
"I want people to come here and work out and realize that they are so much stronger than they think they are, not only physically, but mentally," Biron said. "I really wanted to bring that mental strength to people whenever they step in that room."
As a pro coach at Solidcore and BU student living near Fenway, Marin Freedman, a sophomore in the Questrom School of Business, said the addition of new businesses around the area is "great."
"I think as college students living in a city, we're very used to being around so many businesses and so many exciting opportunities for us to do in the city," Freedman said. "I think having such a vivid commerce area near the college campuses is great, especially when it comes to things like restaurants and fitness."
Emilia Wisniewski contributed to the reporting of this article.