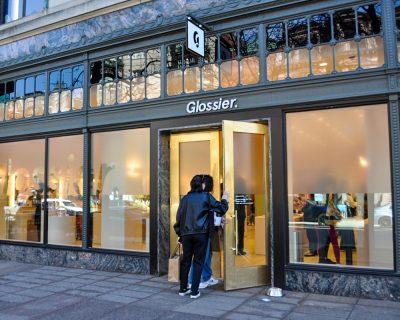 Beauty brand Glossier opened a permanent store in Boston on March 24, making the location the company's tenth physical store in the United States.
The new store found its permanent home at 126 Newbury Street, after having a pop-up location in Seaport in the summer of 2019. There, Glossier took over The Current village and occupied nine spaces with different products from its brand.
"We got to meet so many amazing community people there, ranging from students who were in town for the summer to young professionals and working parents, and we knew we wanted to come back to the city," said Roya Shariat, social impact and brand partnerships manager at Glossier.
Glossier has been trying to come back to Boston since before the pandemic. Shariat said the store's location, across from Levain Bakery, is the "right home" for the brand.
"Newbury Street stuck us as an amazing place where retail, commerce, restaurants, all of it was in one place," Shariat said. "We're so excited by the bustle, and the amazing community of retailers down on the street that we felt like this was the right home for the brand."  
The new location will include design elements inspired by Boston's architecture like the Isabella Stewart Gardner Museum, wrote Kate Ralbovsky, senior account executive of public relations firm BPCM, in an email.
"Inside the store, you'll find yourself immersed in a retro-chic aura of geometric arches, and walls bathed in Glossier-pink and pastel green," Ralbovsky wrote. "A series of mirrors surround you, transporting your reflection into infinite dimensions as you test products." 
Boston's new Glossier will maintain the style its clients have grown used to in other stores across the country, including "signature wavy tray, cylindrical displays and rectangular tables," Ralbovsky said.
Among the exclusive products brought to Boston is a green crew neck sweater with a monogram G inspired by varsity letters and the sale of the "Glossier You" rollerball perfume.
Boston College students Emma Janda and Aidan Gallary came together for the launch. Janda said the store matches Boston's aesthetic because of its pleasing color schemes.
"I feel like they did a lot of research and put a lot of intentions into the overall design of the store," Gallary said. "The creative direction just sort of lines up with what Boston is looking for."
To add personalization and a connection to the Boston community, independent artist Victoria Adrian was hired to do custom embroidery monograms on sweatshirts, made for the Boston store.
Josh Helman, director of influencer marketing at Glossier, said the company holds a press day before each new opening to give the local community a preview of the store.
"I think it just shows that we are opening more stores and we're allowing for more Glossier to go to more people," Helman said. "That's one of the most exciting things about the next coming months and years of this brand, that more people will be able to try it and get their hands on it."