This article contains spoilers for "The Munsters," the season four premiere of "Succession."
After three seasons of the best characters and conflicts that television has to offer, HBO's "Succession" is finally coming to an end. If "The Munsters," the thrilling season four premiere, is any indication of how the rest of the season will unfold, the show seems destined to go out on the highest note imaginable.
A few months after the explosive events of the season three finale, "All the Bells Say," the Roy siblings are on the verge of committing to a new media venture dubbed The Hundred, which Kendall (Jeremy Strong) describes as "Substack meets MasterClass, meets The Economist, meets The New Yorker."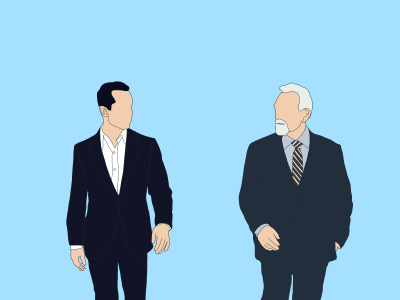 If The Hundred sounds derivative, that's because it is. Cut off from the good graces of Waystar RoyCo, Kendall, Roman and Shiv are struggling to forge their own corporate identity. When Shiv (Sarah Snook) catches wind that Logan (Brian Cox) might be negotiating an acquisition of Pierce Global Media, their thirst for warfare kicks back in.
With investors literally waiting at their doorstep, the Roy siblings scrap The Hundred entirely, opting instead to play their hand at buying Pierce — much to the chagrin of a skeptical Roman (Kieran Culkin). Kendall and Shiv are all too willing to get back under their father's skin, even at the cost of their independence. 
As for Logan, he's absolutely miserable at his birthday party, moping through the festivities and questions from an anxious Tom (Matthew Macfadyen). Upon escaping to a diner with Colin (Scott Nicholson), his bodyguard, Logan launches into a discussion about his own humanity.
"You think there's anything after all this?" Logan asks Colin. "I don't think so. I think this is it, right?"
Logan's introspection about what lies beyond his empire is a telling nod to the finality of this season. When someone like Logan has won everything he's set out to conquer, what else is there to do?
With Kendall, Roman and Shiv situated at the Pierce residence and Logan holed up in his New York City apartment, a fierce bidding war with Nan Pierce (Cherry Jones) culminates in the Roy siblings getting the upper hand for an astounding sum of $10 billion dollars. In a rare change, Logan actually takes a loss on this deal. 
The Roy siblings have sacrificed a fortune to buy their way into a battle with their father again. It's hard to imagine things playing out any differently this time. 
With its relentless pacing and sharp writing, "The Munsters" teases a lot of exciting leads for where this final season could go. The repercussions of the Pierce buyout, the looming GoJo acquisition, and the presidential election are all dominoes that should fall in the following weeks. 
This premiere episode is packed with so many subplots that I can barely fit all of them in this recap. Greg (Nicholas Braun) paints himself in a more repulsive light than we've ever seen from his character. Connor's (Alan Ruck) plea with Willa (Justine Lupe) to turn their wedding into a publicity stunt for his political campaign is gut-wrenching to watch.
Perhaps the most heartbreaking scene in "The Munsters" is the confrontation between Shiv and Tom towards the episode's conclusion. Still processing Tom's betrayal from the third season, Shiv refuses to engage with his attempts to explain himself, suggesting they should just accept the dissolution of their marriage.
"We gave it a go," the two painfully admit. For a show that features billion dollar buyouts, it is personal defeats like these that hurt the most.