Students living on Boston University's Fenway Campus shared mixed opinions about student life on Fenway Campus — highlighting a lack of study spaces and limited hours of operation for the gym.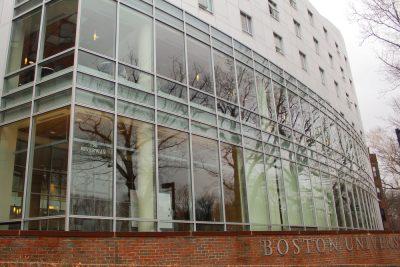 Originally a part of Wheelock College's campus, the Fenway Campus was acquired by BU following a merger between the two universities in 2018. The campus currently consists of eight buildings, which serve as student residences, classrooms and administrative spaces.
Since the opening of Fenway campus in Spring 2022, however, the campus library has remained closed.
BU Spokesperson Colin Riley wrote in an email that the Fenway Campus Library was "repurposed for research archives when Wheelock and BU merged five years ago," and there are currently no plans to add buildings to the Fenway Campus.
Lewis Levy, a sophomore in the College of General Studies and vice president of the Fenway Hall Council, a BU ResLife affiliated group that aims to amplify student voices and make improvements to the Fenway Campus, said he feels like Fenway Campus does not get much attention from the University.
"Fenway Campus, as we know, is a smaller campus and fairly new, so it feels like we are not getting as much recognition [as the rest of campus]," Levy said.
The Fenway Campus gym is currently open Monday through Friday from 7 a.m. to 9:30 a.m. and then from 2:30 p.m. to 8 p.m. The gym is closed on weekends.
"The critical issue [at the Fenway Campus Gym] continues to be the availability of staff," Riley wrote. "Residents of the Fenway Campus looking for work are encouraged to apply to join the FitRec team and help meet the group's needs."
Levy said The Fenway Hall Council has been working to change this.
"We believe that [the gym] should have at least some openings on the weekends because it was open [during the weekend] last semester," he said. "We know a lot of students are angry and upset and we really want to help the student body and help everyone with the current issues."
Levy said that the Fenway Hall Council's petition to keep the gym open on the weekends currently has over 150 student signatures, which he estimated to be about one fourth of the student body of Fenway Campus.
"The Fenway Hall Council is trying our best to have these solutions as quick as possible, but it's really challenging dealing with facilities and administration," he said. "They are dealing with a lot of other issues so we're not 100% sure that their priority is Fenway."
Ethan Gasse, a sophomore in the College of Arts and Sciences, said although there are study spaces available on Fenway campus, they are not typically quiet studying environments.
"There are spaces that encourage collaboration [but] … things get pretty loud," Gasse said. "If my roommate's yelling on his [videogame] headset and there's 10 people in the lounge all having a meal together … I don't have my room, I don't have a lounge, I don't have somewhere where I can be alone and just focus on my work."
Students on the Fenway Campus also have concerns about the accessibility of drinking water, according to Gasse. 
He said that two out of the four resident halls at Fenway, Longwood House and Pilgrim House, do not have filtered water fountains.
"Before they opened up a bathroom on the first floor of Pilgrim … you'd have to go up to the third floor of Pilgrim just to fill up a water bottle," Gasse said.
Ada Yildirim, a junior exchange student in BU's College of Engineering and Bosphorus University in Turkey, said she has noticed that she spends more time at the Charles River campus out of convenience.
"I think the campus doesn't have a designated study space," Yildirim said. "Maybe the library could be open and maybe more functional."
Yildirim said she thinks it would be nice if the gym was also open longer and the BU Bus was more consistent.
"They [should] have a designated study area that's bigger and that's more comfortable," she said. "Also the gym could be open for longer hours or during the day."