Opener Isaia Huron described Chiiild's music as "the relaxing feeling of lighting a candle at the end of a long day." The description that perfectly denotes Chiiild's warm and comforting vocals paired with a captivating performance of a true artist at work.
Chiiild delivered an unforgettable performance at The Sinclair last night with their rapid transitions from soft, soulful music to upbeat psychedelic sound dubbed as "synthetic soul" — a wide-ranging sound drawn from soul, psychedelic, indie, jazz and pop. Lead singer Yonatan "xSDTRK" Ayal describes himself as a multi-experimentalist whose music transverses the boundaries of genre.
The show began with Isaia Huron, a young up-and-rising R&B/soul artist who brought his angelic voice and energy to the stage which was symbolic of what was to come. He set forth the audience anticipation Chiiild would build upon, encouraging audience members to sing along to his single "Self!" as he pointed into the crowd to chant "Self" as he sang, "I want you to myself."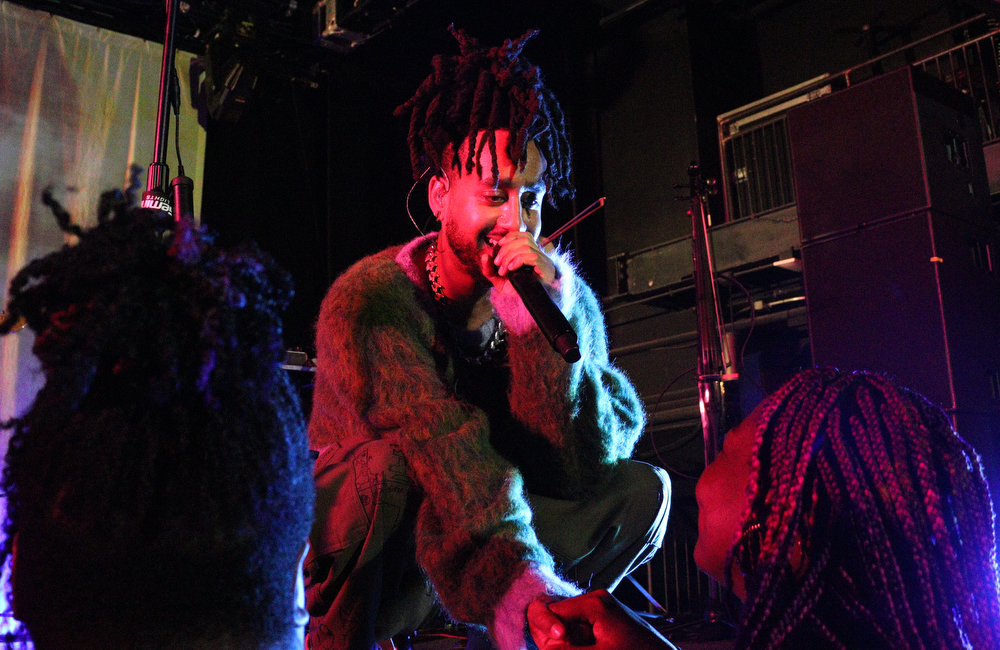 Chiiild's performance began with three members of the band — guitarist Pierre-Luc Rioux, violinist Lauren Malyon and drummer Maxime Bellavance — walking onstage adorned in bright headlamps which flashed into the crowd as the venue remained dark.
Meanwhile, dramatic violin and drums created anticipation for Ayal to come onstage. Ayal was met with several cheers as he walked onstage, adorned in a fuzzy green sweater, baggy cargo pants and combat boots — a casual outfit that conveyed the laid-back nature of the show.
The night opened with "Antidote," the third song off Chiiild's latest album release "Better Luck In The Next Life." Characterized by a soft, soulful sound, Antidote's dreamy tones floated throughout the atmosphere of the venue, creating a dreamy sensation that emulated the relaxing candlelit feeling previously described by Huron. This quickly transitioned into a lively performance that enticed excitement amongst the crowd, as Ayal jumped across the stage and began dancing freely.
The Sinclair provided an intimate environment and created a more fulfilling experience. Members of the audience could feel the heavy beats reverberating in their bones and fully immerse themselves in Chiiild's soothing vocals.
Shortly afterward, Ayal stopped to rile up the crowd with enthusiastic hand gestures, asking "Are y'all good?" and even stopping to shake a crowd member's hand. This crowd interaction was prevalent throughout his performances. Ayal later stopped to tell the audience "I need your energy to go from a nine to a 10 to an 11 to a 12."
Through his lively crowd interaction, Chiiild brought an intimate aspect to their performance that most lack, making the event feel less like a concert and more of a connected experience. Ayal went so far as singing to individual audience members and holding multiple of their hands with prolonged eye contact, at times twirling them around so they could dance.
Dancing was highly emphasized as part of the performance to enjoy music as a full-body experience. Not only did Ayal engage the crowd, but he also made sure to target his entire audience, singing and pointing to members in the stands to ensure they weren't overlooked.
While the band was supporting their new album "Better Luck in the Next Life" released earlier this March, Chiiild incorporated other popular songs from his previous albums "Synthetic Soul" and "Hope For Sale" to deliver a comprehensive setlist spanning from 2020 to present.
The venue became bathed in warm orange light as Chiiild sang about a "tangerine sky" from his song "Bon Voyage," making the audience feel as if they were levitating to the music as Ayal's soothing voice mirrored the orange light.
This quickly transitioned into a slower song, as the audience fell quiet listening to Chiiild perform a captivating emotional melody. But Chiiild quickly roped the audience back in as he incorporated an upbeat soundtrack and began to dance once again.
Throughout the setlist, Chiiild brought an infectiously joyful energy that left its impact on the crowd. As Ayal danced across the stage with a smile on his face, audience members could be seen swaying to the music as well. The concert truly felt like less of a performance and more of a laid-back setting where everyone could vibe and enjoy music together, having a good time.
Chiiild kept the audience engaged and on their toes as he seamlessly transitioned from smooth, passionate vocals to vibrantly upbeat drums and electric guitar, pausing for individual solos for each band member.
Ayal himself often alternated between playing the piano and singing, demonstrating his sheer musical talent. As he played, he closed his eyes and shook his head to the beat of the music, fully immersed in his craft — it was clear the audience was watching a true artist at work.
While Ayal delivered undeniably stunning vocals throughout his performance, his voice was not the star of the show. It was the incorporation of several eclectic instruments created by the band that tied together in an odd but satisfying synergy of sound. Malyon on violin most notably brought an orchestral aspect to the performance, but somehow seamlessly tied into the psychedelic nature of the electric guitar and rhythmic drums. The result was a bizarre but satisfying performance.
The night ended with Chiiild encouraging audience members to chant "One last song! One last song!"
Phone flashlights illuminated the venue and audience members swayed to the music as Chiiild performed "Darling," a sweet love song that brought a wholesome ending to an energetic night.