Professor Rodrigo Lopes de Barros, a Black, Brazilian assistant professor of Romance Studies and current interim director of the Cinema and Media Studies Department at Boston University, is suing BU for discrimination after Provost Jean Morrison and President Robert Brown rejected his application for tenure without providing an explanation.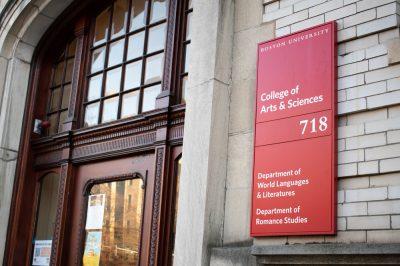 James Iffland, a professor of Spanish and Latin American Studies and graduate studies director of the Pardee School of Global Studies, wrote in an email to the Daily Free Press that Lopes de Barros seemingly received positive votes from all the committees that evaluated his tenure dossier up to the highest level until Provost Morrison rejected the tenure in April of 2022. Lopes de Barros appealed to President Brown, in accordance with the University's internal bylaws about tenure, but was still rejected in June of 2022.
BU has until the last day of Professor Lopes de Barros's employment, June 30, to overturn their decision.
Iffland said he was surprised that President Brown did not reverse Provost Morrison's decision about Lopes de Barros's tenure, as Brown did so in a similar case for a professor from the Department of Religion.
"The worrisome aspect of this, among others, is the fact that Professor de Barros is Black and he's from Brazil," Iffland said. "Quite frankly, I think the BU lawyers who are involved in this case are going to have a hard time explaining exactly why this has happened."
James Weliky, attorney for Lopes de Barros, said that Lopes de Barros's discrimination claim was filed at the Massachusetts Commission Against Discrimination, an independent state agency that enforces anti-discrimination laws. The claim was filed at the beginning of February 2023.
"[Lopes de Barros] strongly urges the University to reconsider his decision and grant him the tenure that was recommended at every level of the institution," Weliky said.
BU spokesperson Colin Riley declined to comment about Lopes de Barros's case, writing in an email that the University does not comment on personnel matters.
Braden Clinger, a fifth year doctoral degree student studying Hispanic language and literatures, wrote in an email that Lopes de Barros encouraged thoughtful debate and engaged learning in his classroom.
"His research is rigorous and cutting edge, and he is a gifted communicator," Clinger wrote. "Additionally, he has enriched the campus community by organizing events and bringing leading academics and artists to our campus."
Fernanda Alves dos Santos, a first year doctoral degree student studying Hispanic language and literatures, wrote in an email that Lopes de Barros is known for his "kind, helpful and understanding approach" to teaching.
"He is one of the few Romance Studies Department professors of color, and not only has he had a substantial impact on previous and current graduate student projects [and] courses and has added academic value, but he brings a unique approach," Alves dos Santos wrote. "Losing him would be counterproductive to the University's stated goals." 
Iffland said Lopes de Barros's denial of tenure is a setback for undergraduate students as well because the Department of Romance Studies has been working to promote the teaching of Portuguese at BU and to offer courses featuring Brazilian subjects. Iffland said losing Lopes de Barros puts the department back at "square one."
"Part of the vexing nature of this decision is that BU is very much invested in issues of diversity, equity and inclusion," Iffland said. "In this case, we're looking at a very talented person of color who has come up for tenure who seems to have checked off all the boxes that are necessary to be promoted, and this is what the result has been." 
Alves dos Santos highlighted how Professor Lopes de Barros is a part of the underrepresented Hispanic/Latinx and African American or Black faculty at BU. According to BU Analytics, just over 6% of faculty are Hispanic/Latinx and around 7% of faculty are African American or Black. 
Alves dos Santos also wrote that with Lopes de Barros's departure, the Romance Studies Department will lose "one of only two professors who can offer advice on Latin American topics, including the underrepresented areas of the Caribbean and Brazil."
"As a person who is preparing to face a highly competitive academic job market, I question whether I will have to go through this situation in the future: where my professional and academic life is disqualified by a specific person without plausible justification," Alves dos Santos wrote.
Students of Romance Studies, including Clinger and Alves dos Santos, wrote a letter to President Brown last week contesting Lopes de Barros's rejection of tenure.
Alves dos Santos wrote that the students have not yet received a response about their letter and are now working on a public petition.
Christopher Maurer, a professor of Spanish and former chair of the Department of Romance Studies, wrote in an email that about half of the students who applied to the Romance Studies graduate program last year expressed interest in studying with Lopes de Barros specifically.
"The decision [to deny Lopes de Barros tenure] is a mistake, and the lack of explanation, galling," Maurer wrote. "This judgment is refuted by enthusiastic reviews at every level — by outside evaluators, the Department, College, CAS Dean, University and by our own experience in the Spanish section of Romance Studies."
Maurer wrote that parts of BU's tenure process "demand reform," writing no one should ever be refused tenure without clear reason.
"Provost and President owe it to tenure candidates and departments to give them specific reasons for denial of tenure, without those reasons being pried from them by lawyers," he wrote. "This is a matter of simple workplace fairness and respect: one doesn't dismiss any employee without offering an explanation."
Iffland said that after hearing of Lopes de Barros's case, many faculty are skeptical of BU's efforts to increase diversity, equity and inclusion.
"We, as faculty, get training on this issue," Iffland said. "To have brought up the case of a faculty member of color, who was more than qualified, and have [his tenure] get turned down inspires a certain amount of skepticism about the true commitment of BU to remedying the situation that we all know about, which is a lack of faculty of color at Boston University."