Rows upon rows of used clothing, but with a twist: every garment has been donated by a Boston University student for another BU student to give a second life.
Shop Swapp is a thrifting service and platform exclusively for BU students, started by two College of Engineering seniors, Katie Hill and Mikayla Crowley.
"We're trying to give students an easier way to buy and sell items between one another on campus," Hill said.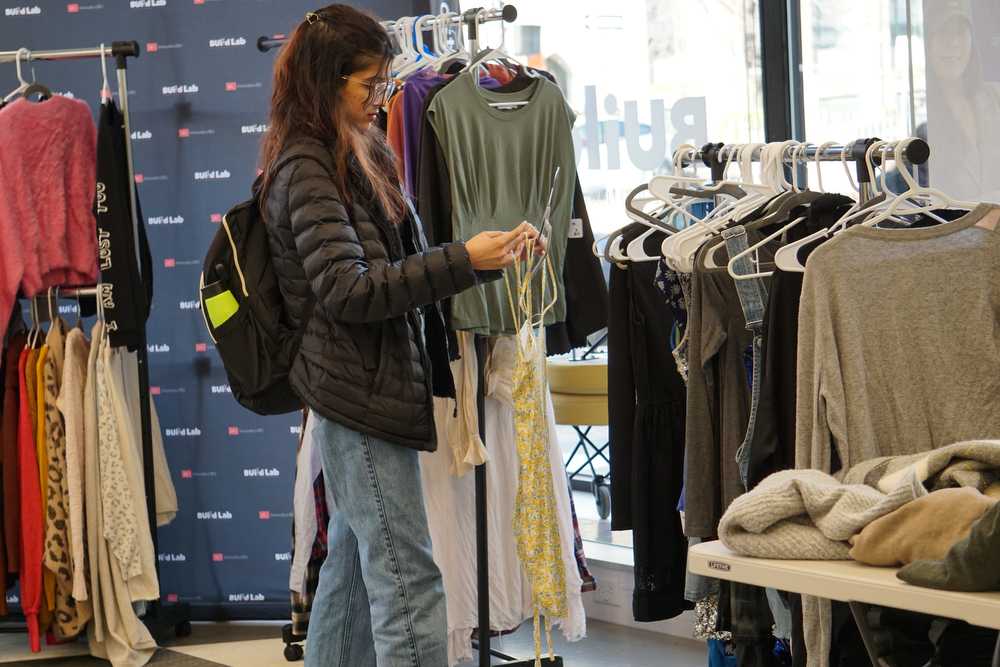 According to the Shop Swapp Instagram, @shopswapp, the venture is "an affordable and sustainable option for someone wanting to find the perfect dress or new top just steps away from their dorm."
The company idea grew out of a class both Hill and Crowley took last spring, which tasked students to "intertwine technology with something and create our own startup or app," Hill said. Hill pitched the idea for Shop Swapp as a project for the course and pursued it with her group.
After receiving positive feedback from her classmates and professor, she decided to make it a reality and brought her friend Crowley on board.
The reselling process begins with students reaching out through the Shop Swapp Instagram or their website when interested in selling clothing, Hill said. Then Hill and Crowley will go "pick [the items] up from wherever they want on campus."
Ally Roloff, Crowley's roommate and a senior in the College of Arts and Sciences, has seen her apartment become an "explosion" of clothes nearly once a month. She said Shop Swapp could be "a huge thing for BU."
"I think it's a great, sustainable way to trade clothes," Roloff said. "I sell on Poshmark and I hate the fact that I have to ship everything and stay on top of it, and this is a much easier thing."
Either the seller or Hill and Crowley will price the items to be sold at a pop-up shop. Shop Swapp keeps 35% of the profits, with the seller taking home the remaining 65%.
Not only is this process of selling and buying clothes easier than sites like Poshmark, a second hand fashion website, but it's also keeping clothes out of landfills.
"Hopefully we're having an environmental impact," Crowley said. "These clothes aren't being thrown away or discarded in any other way, they're actually being resold."
Roloff's role in the company is a self-proclaimed "supportive roommate," and she said she helps to drive, pick up clothes and fold clothes at events.
Shop Swapp has held six pop-ups on campus so far, with the first pop-up shopping event being held last year on Dec. 1. Crowley said at their March 23 event that inventory had doubled since the previous event one month prior.
Crowley has even had to turn people away because the demand of people wanting to sell clothing has become so high, Roloff added.
Another step Hill and Crowley took was to partner with BU Sustainability to host a pop-up on the GSU Terrace on March 23.
"[BU Sustainability] has been so supportive and they did a great job helping us set this up and reserve the room today," Hill said.
Hill said the goal is to eventually sell the Shop Swapp platform to BU Sustainability.
"We talked to BU Sustainability because we want to end up selling our platform to them and to other sustainability departments at different schools," Hill said.
All of Shop Swapp's profits have been reinvested into running the business, going primarily toward creating the online platform. The platform is still in the works, with plans to launch soon.
"Our hope is that we will launch our online platform in the beginning of April," Crowley said. "We hope that students will use it and that it'll be successful."
Hill and Crowley have been selected to compete in the New Venture competition hosted by Innovate@BU to pitch their business idea. This competition awards $72,000 in prizes, with the winning team in each track taking home $20,000, according to the Innovate@BU website.
"[Winning] would be great because then we could hopefully market to other schools and see what they think about buying and selling between other schools," Hill said.
Crowley agreed, saying she hopes Shop Swapp will "go to other schools as well." For now, however, the service is only available to BU students.
But if you sell your clothing, be warned: you may see it walking around on campus — worn by another student.
"I met a girl who was telling me she came and bought some silver jeans and I was like 'those were my jeans!'" Roloff said. "[Shop Swapp] is really bringing people together."