Alexi Giannoulias was a champion. Giannoulias, a guard on the Boston University basketball team, helped the Terriers to a 25-5 record and a regular season championship in 1997. On March 7 of that year, he and his teammates were crowned champions of the America East Conference in Case Gym, earning an NCAA Tournament berth.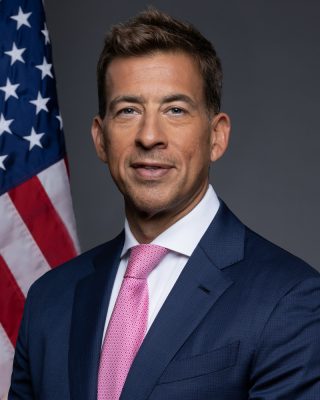 Nearly 26 years later, Giannoulias assumed the role of Illinois Secretary of State.
Giannoulias, or AG as his former teammates liked to call him, was a model student-athlete, earning two America East Academic Honor Roll awards while at BU. His former teammate, center Joey Beard, said he was "ultra-competitive" to the point where anything below an A in class wasn't good enough. 
"Alexi loved basketball. He loved it, and he probably worked as hard or harder than anybody else on that team to try and get as much playing time as he could," Beard said. "He kind of applied that to school as well." 
Giannoulias's competitiveness on the court transcends his life beyond basketball. He said it helped lead him to his current job as Illinois Secretary of State, a position he assumed on Jan. 9, 2023. 
"All these guys on the team were all my brothers, but they were fierce competitors," Giannoulias said. "We're still fierce competitors to this day." 
Before he transferred to BU, he played basketball for the University of Chicago for two years. After Giannoulias earned his bachelor's degree in economics in 1998, he played professional basketball in Greece for a year. 
Giannoulias then earned a law degree from Tulane Law School in 2002 and moved back to Chicago for the start of his political career. He became Illinois' State Treasurer in 2007, continuing in the role until 2011.
Giannoulias's past experience in politics was one of the reasons he decided to run for Secretary of State. He won the election in 2022, taking over for longtime Illinois Secretary of State Jesse White, who held the position since 1998.
"When [White] told me he wasn't running after a quarter century of being Secretary of State, I thought it was a great opportunity," Giannoulias said. "It's the largest Secretary of State's office in the country, and we touch more people's lives on an everyday basis than any other office in state government."
Beard said Giannoulias had a leader mentality, so he wasn't surprised when Giannoulias entered politics, especially because of his generosity.
For example, during one of their games, Beard suffered a major back injury and had to stay in the locker room overnight.
"My team, after the game, came and checked in on me, but Alexi came and stayed with me through the night," Beard said. 
For Beard, Giannoulias's actions that night really demonstrated his compassion for others. 
"He didn't need to be there," Beard said. "[But] he was there. I could always rely on him."
Levar Folk, a former Terrier guard and teammate of Giannoulias, seconded this. 
A couple of days before the Illinois Democratic election at the end of June, Folk, Beard and a few other former teammates from BU flew out to Chicago to support Giannoulias. They only saw him for 10-15 minutes due to his busy schedule.
"It wasn't about having to spend time with him … It was about him seeing his former teammates there supporting him," Beard said. "For us, that was enough."
In his new position, Giannoulias is determined to make a positive impact on the community, focusing on ethics and transparency.
"We are laser-focused on modernizing the office, changing the culture," Giannoulias said. "I could not be more excited about the challenges that we face."
Even with this, he still thinks back to his days as a Terrier.
"Playing basketball at BU was one of the highlights of my life," Giannoulias said. "The teammates, the friendships and the competitiveness of playing at BU has really stuck with me."