This article contains spoilers for "Rehearsal," the second episode of the fourth season of "Succession."
With a game-changing board meeting set to occur, "Rehearsal" serves as this season's calm before the storm. In classic "Succession" fashion, even peace is vicious.
At the start of this episode, Logan is confident that GoJo's impending acquisition of Waystar RoyCo will go through. As a result, he has decided to direct his attention to ATN, the company's news branch. In one of the episode's many standout scenes, Logan visits the studio and delivers a passionate speech to his employees about the new era he will be ushering in.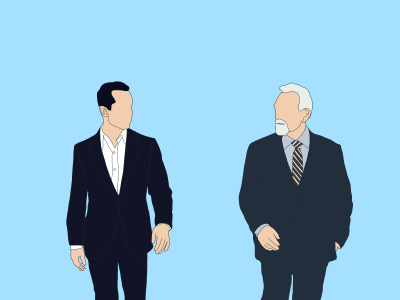 "I'm gonna build something better," Logan yells. "Something faster, lighter, leaner, wilder."
Unbeknownst to Logan, the Roy siblings are considering a move that could unravel the acquisition. With just a day to go before the deal is finalized, Sandi (Hope Davis) and Stewy (Arian Moayed) propose that Kendall, Roman and Shiv should vote "no" at the upcoming board meeting alongside them, reopening negotiations on the deal.
Behind the scenes, Kendall is privately talking with Lukas Matsson (Alexander Skarsgård), the CEO of GoJo. It's unclear how long their private conversations have been going on for, but if anything, it establishes that Kendall is placing his interests ahead of his siblings.
Over a FaceTime call with Kendall, Matsson threatens to leave the deal if he's pushed on price. The Roy siblings are well aware that negotiating with Matsson is risky since they aim to increase the price and still reap the benefits of the sale. Kendall knows for certain that the deal will fall through if Matsson is pushed, yet he withholds this information from Shiv and Roman. 
If this is a move that would destabilize Logan, then it would only make sense that Kendall is all for it.
Back at ATN, Kerry's (Zoë Winters) dreadful audition tape has become a point of contention, and Tom dispatches Greg to let her know they won't be placing her as an anchor. Although he botches the delivery of this message, Greg manages to get the point across in the end — a rare show of proficiency on his behalf.
Meanwhile, Connor's wedding rehearsal takes a disastrous turn when Willa runs off, leaving Connor despondent and yearning to do a few rounds of karaoke. Kendall, Roman and Shiv reluctantly agree to his request, but their retreat to a karaoke bar is disrupted by Logan's arrival.
Having learned of the prospective board meeting veto, Logan attempts to sway the siblings clear of this explosive idea. Whereas Roman makes an actual effort to unpack some of the trauma his father put him through, Kendall and Shiv completely blow off Logan, much to his frustration.
"I love you," Logan admits. "But you are not serious people."
Although Kendall and Shiv take delight in the petty squabble they have with their father, Roman is not quite as thrilled. The same can be said for Connor, who finds himself entering what might be a loveless marriage and losing out on a significant sum of money if the GoJo deal collapses.
This futile confrontation might just be what brings Roman back to Logan's side. The episode concludes with Logan urging Roman to come with him to talk with Matsson — going so far as to suggest he could take over as the head of ATN.
By the conclusion of "Rehearsal," many conflicted loyalties have been put into play. With the board meeting and Connor's wedding scheduled to unfold in next week's episode, the stage is prepared for what should be one of the most stressful hours of television in a long time.