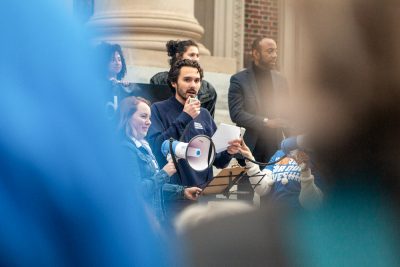 March For Our Lives, a youth-led movement dedicated to eliminating gun violence, held a protest Tuesday at Harvard University's campus.
David Hogg, co-founder of March For Our Lives and senior at Harvard University, said the purpose of the protest was to show solidarity with survivors of gun violence and to "push Harvard as a university to put out a statement calling for gun reform."
"I think Harvard has a lot of intellectual capital and power, especially in the world of academia, and if it put out a statement saying that we need to do common sense measures, like background checks and other things like Massachusetts has done, it would help, I think, push us further,"  Hogg said in an interview.
Rachel Jacoby, one of the co-organizers of the protest, said there were issues when it came to planning the protest at Harvard Yard, such as sound and location.
"I think one of the biggest challenges was just getting turnout," Jacoby said. "I think with this issue, there's a lot of fatigue because over and over and over and over and over again are shootings, and people just get really burned out. So I think it's hard to get people to focus and tune in and pay attention."
The protest had eight speakers who described their experiences with the threat of gun violence in America. 
Alejandra Ramos Gomez, a former elementary school teacher in Texas, talked about how the requirements for educators are not just "developing lesson plans" but to also "pretend that everything is okay" when guns enter the classroom and threaten students' lives.
"My profession as an educator became an unwanted acting job," Gomez said. "I did not sign up to be a superhero, and my students did not enroll in school to be survivors … our students deserve to grow up feeling safe, loved and respected."
Samuel Schwartz, board member for Florida-based movement Ban Assault Weapons Now and freshman at New England Conservatory of Music, talked about his experiences meeting with senators regarding the issue of gun violence.
"We've cried our eyes out to them retelling our nightmares, nothing we said moved them," said Schwartz. "Legislators are not taking us seriously, they think we're a joke but we're here to tell them never underestimate what a bunch of angry, fed-up, young voters can accomplish."
During his speech in the protest, Hogg said Massachusetts state gun policies have been "effective" in reducing the rate of gun violence throughout the state — having 70% less gun deaths than the rest of the country — and these policies can help curb gun violence throughout the nation. 
Jacoby said many people concerned about gun violence may find the issue "intractable and impossible" to change but highlighted how young people's voices have power.
"We're also here because of all of the gun violence that we see in our country day after day and we're not going to stop organizing, we're not going to stop rallying, we're not going to stop voting, we're not going to stop marching until we see an end to gun violence, so however long that takes," Jacoby said.