With weekly quizzes on maps and business terminology, the pledging process for Delta Phi Epsilon is far from typical. Diana Reno, a junior in the Frederick S. Pardee School of Global Studies and treasurer of DPE, said it may be "intense," but it's "very, very rewarding."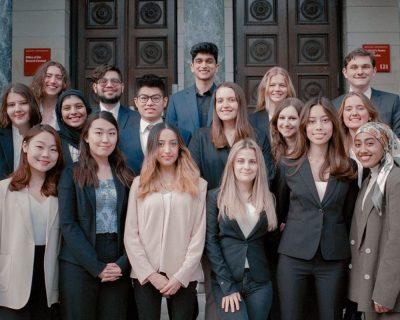 "The pledging process is definitely more time consuming than the average student club," said Elise Choi, a freshman in Pardee and member of the group. "Although it is something that you have to commit to, it ends up paying off, and it's all there for a reason."
DPE is an International Business and Foreign Service Fraternity devoted to providing professional development opportunities.
Reno said she appreciates the networking opportunities the club has provided her with.
"We have networking and LinkedIn workshops, and that has helped me immensely in securing job opportunities," she said. "It is a very good way to have a network within Pardee and also within BU."
Choi said she "couldn't really find proper direction" with what she wanted to do in international relations. Then, she found DPE and was drawn to their multifaceted approach to international relations.
All students are welcome, no matter their major or gender.
Choi said she wanted an organization that could help her explore and talk with people of many different majors and career goals.
"I thought that this would be a great way for me to talk to students, talk to upperclassmen and get more direction and support with what I wanted to do both academically and when it comes to personal development," Choi said.
When it comes to new members, Reno said it's less about how you are now, and more about how DPE can help broaden your future potential.
"We try really hard to not judge [how people are] coming into the organization," Reno said. "We look at your resume, and we don't look at it and go, 'Oh, this is formatted really badly.' We go, 'Oh, this person might benefit from our resume workshops.'"
Beyond hosting activities ranging from business to community service to prepare members for careers, Reno said DPE makes a point to go beyond international relations in its approach to teaching and career development.
"I came into it thinking it was an international relations based-organization," Reno said. "I think that's how a lot of people see us."
In reality, DPE's focus on community building shows it focuses on interpersonal relationships just as much as international ones.
Members of DPE are in distinct families: The Royal Family, The Dynasty Family, The Kennedy Family and Haus of Cuervo. Alana Ogawa, a senior in Pardee and the vice president of recruitment, said each family has their own sense of pride.
Choi said since DPE is such a large student organization, the families are helpful to create more intimate connections.
"College can sometimes be a really isolating place and can also be pretty competitive … it's just really helpful to have someone just a text away," she said.
The families all compete in the Family Olympics, which involve outdoor games and activities, Reno said. Other activities include trivia nights, talent shows and a semesterly formal, which recently took place on a yacht to celebrate the 100th anniversary of DPE.
Ogawa said DPE's Around the World event — one of their most-attended events — involves people bringing different food from different cultures.
Ogawa said DPE has a strong sense of community. Joining DPE helped her meet her roommate, who is one of her closest friends, she said.
"That in itself just changed my whole college experience."