Last week, the women's NCAA championship game became the most-watched college event ever on ESPN+. Players on both teams — Louisiana State University and University of Iowa — set NCAA records and made March Madness history. Under normal circumstances, this game would have been a thrilling milestone for the oft-overlooked field of women's sports. 
And yet, this historic occasion was marred by controversy: racist double standards, sexist stereotypes, even a presidential faux pas.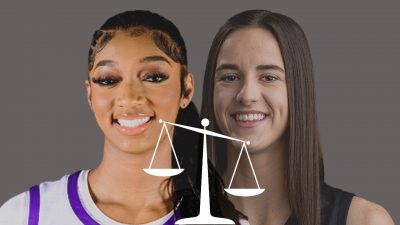 It began earlier in the March Madness tournament, when Caitlin Clark, Iowa's point guard and the most-lauded female athlete of the 2022-23 season, ribbed University of Louisville with John Cena's famous "you can't see me" gesture. The gesture is fairly innocuous and was essentially used by Clark as a celebration, if a taunting one. In response, the media played along and depicted Clark's actions as a tongue-in-cheek reaction to her exceptional performance. 
The championship game could not have gone differently. Once LSU racked up enough points to essentially clinch a victory, LSU star Angel Reece parroted the "you can't see me" gesture back toward Iowa. She also pointed to her ring finger, in reference to her soon acquiring the championship ring.  
The media promptly exploded: Reese was inundated with hate on Twitter and other social media platforms, sports journalists called Reese "classless," former ESPN hosts said Reese was an "idiot." Dave Portnoy of Barstool Sports even called Reese "a classless piece of s—."
The double standard was blatant but still shocking — for context, Reese is a Black woman while Clark is white. The controversy played directly into age-old stereotypes of the "angry Black woman," humoring Clark and allowing her grace while condemning Reese for quite literally the exact same behavior. 
The negative focus on this relatively harmless trash-talk is also problematic outside of its clear racial dimension. Trash-talk is an exceptionally common feature of men's sports — in fact, many of the NBA "greats," such as Shaquille O'Neal and Kobe Bryant, were known for their biting, snarky remarks on the court. 
Clark herself commented on the misogynistic nature of the pushback against Reese, saying "men have always had trash talk … You should be able to play with that emotion … That's how every girl should continue to play." 
In a world where women's sports are constantly devalued, if they're even regarded at all, expecting female players to be docile and sweet is salt in the wound. Women are allowed to be competitive, fierce, angry or confident in the same way men are, and should not be held to different standards of on-court conduct solely because of their gender. 
To make matters — somehow — even worse, First Lady Jill Biden invited both teams (LSU and Iowa) to the White House, eschewing the tradition of inviting the March Madness champions alone. Reese was understandably perturbed by this, especially in light of the already unbalanced treatment she'd received from the American media, and tweeted "A Joke" and "we not coming" in response. 
This media circus is a symptom of a troubling condition: turning women's sports into jokes, scandals or political upheavals instead of focusing on female athletes and coaches' undeniable talent and excellence. 
WNBA star Brittney Griner was mocked and denigrated after being incarcerated in Russia for ten months, with many people saying she wasn't high-profile or good enough to be traded for the arms dealer Viktor Bout. It's safe to say that reaction would've been quite different if LeBron James or Steph Curry were ludicrously imprisoned in a foreign country. 
The U.S. women's soccer team had to fight and plead for years to receive equal pay for their winnings — even though they've won four out of the eight women's World Cups, while the U.S. men's team has won a whopping zero. 
Serena Williams, one of the best tennis players in history, hit the nail on the head when she said, "People call me one of the 'world's greatest female athletes.' Do they say LeBron is one of the world's best male athletes? Is Tiger? Federer? … We should always be judged by our achievements, not by our gender." 
Let's focus on Reese's incredible accomplishments, not her cheeky hand motions. Let's honor female athletes' skill, power and technique — as well as their strength for enduring treatment no male athletes endure — instead of demeaning, ignoring or stereotyping them. 
As Reese said after she won the most prestigious championship in college basketball, "Twitter can say what they want to say … I love reading those comments … What are you going to say now?"
This editorial was written by Opinion Editor Caroline McCord.