Where were you 947 days ago?
It was Aug. 30, 2020. The presidential election was on its final leg,"WAP" topped the music charts and COVID-19 dominated nearly every facet of life. 
It was also the day that Roman Reigns claimed the WWE Universal Championship. Fast forward two and a half years and Reigns has slain superstar after superstar. Reigns's kill sheet includes Drew McIntyre, Brock Lesnar, Seth Rollins, Sami Zayn, Kevin Owens and many more.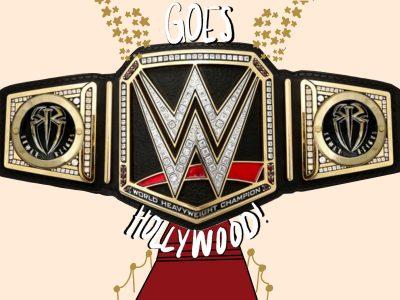 Throughout that entire span, nobody had seemed as likely to dethrone the Head of the Table as Cody Rhodes. However, on Sunday night, the rug was pulled out from under the WWE universe. Rhodes's name was added to the end of Reigns's list, continuing his historic title run.
WrestleMania 39 was two days of magnificence on the grandest stage, pulling Hollywood, WWE superstars and over 80,000 fans together under Los Angeles' SoFi Stadium. 
The event was, naturally, movie-themed. The stage design was incredible, and there were movie-inspired promo videos such as Rollins in "Joker," the Bloodline in "GoodFellas" and McIntyre in "The 40-year-Old Virgin." 
Night 1
The card for Night 1 of WrestleMania was packed with quality matches. The night's festivities were further improved by Lil Uzi Vert's performance of "Just Wanna Rock" along with Pat McAfee and 49ers tight end George Kittle's impromptu beatdown of the Miz.
Fan favorite Seth Rollins and YouTube superstar Logan Paul faced off in a fun mid-card match, displaying high feats of athleticism. The dancing "Prime" energy mascot was revealed to be YouTuber KSI. The match ended with Paul accidentally frog-splashing KSI and Rollins curb-stomping his opponent.
In a culmination of excellent long-term booking, the vilified "ex-con" Dominik Mysterio took on his father, Rey Mysterio. Dom, the promotion's biggest heel, disrespected his father and threw water in his sister's face at ringside. Exchanging 619s, the two put together a great match with father eventually taking down son. 
My favorite match of the weekend was the Smackdown Women's Championship match between Charlotte Flair and Rhea Ripley. The buildup was improper, but that didn't stop an incredible match with a lot of ring chemistry. After kissing the mat too many times, Flair neared unconsciousness, allowing a riptide and a pinfall victory for Ripley — the new champion.
Night 1 ended with twin brothers and 622-day title holders Jimmy and Jey Uso attempting to finally solve the Bloodline's Sami Zayn and Kevin Owens (KO) problem in one swoop. KO and Zayn — the friends turned enemies turned friends turned enemies (you get the idea) — looked out of their element, eating a weekly serving of super kicks. 
The two kept fighting, with Zayn being the first person to ever kick out of a one-and-done. Zayn highlighted his revenge with a Uso Splash and three straight helluva kicks to Jey, putting away the greatest tag team ever. 
Night 2
Sunday night had some firepower but was lacking in comparison to Night 1. Even the surprises were awkward. Shane McMahon's leg gave out on him 30 seconds into an impromptu match with the Miz, causing Snoop Dogg to drop an improvised people's elbow to salvage the segment. 
The top match was the Intercontinental Championship between Gunther, McIntyre and Sheamus. Three of the most likable wrestlers in WWE had a hard-hitting, bruise-inducing match where the storyline of Drew and Sheamus' friends-to-enemies arc met a frustrated "Ring General." Sheamus and McIntyre exchanged finishers before Gunther reappeared from the top rope, power-bombing his challengers and retaining his belt. 
Hell in a Cell is one of the most vicious matches a WWE star can find themselves in. Judgement Day founder, Edge, was ready to settle his differences with the man who kicked him out of his own group — Finn Bálor — inside the cell. Bálor brought out his near-undefeatable "The Demon" personality in the match. The brutal match ended quickly. Bálor's head was gashed open by a ladder, and medical staff had to staple his wound before he returned to the match, losing to the "Rated-R Superstar." I disagree with the decision to have Demon Finn lose, delegitimizing his dominance.
Now, to the main event of WrestleMania. The challenger Cody Rhodes, who returned from a nasty torn pec injury and won the Royal Rumble, was fighting to win the WWE title his father Dusty Rhodes never could. 
Roman Reigns was an unstoppable force. It was a five-star match in every sense of the word. Cody looked ready to finish the story with two straight cross Rhodes before Reigns's relative Solo Sikoa interfered. Reigns hit a spear and pinned Cody to retain his title for the third consecutive WrestleMania.
The ending was controversial since many saw Cody be the one to end Reigns' streak. Roman was the correct choice, though. Cody returned to the ring two months ago and shared half his build-up with Zayn. The downfall of a dominant title run should be rooted deeper. Challengers with more long-term stories like Jey Uso, Rollins or the Rock would be more fitting. Even Rhodes could take this setback to create a better story with Reigns. 
I agree the Bloodline interference is overplayed. The match would've been received better with a clean win. However, be patient, WWE fans. Roman will drop his belts soon, and the payoff will be even sweeter.