Since leaving behind the beautiful gardens of her hometown in Haiti, singer Derline Fevius finds musical inspiration where you might least expect it: driving college students in circles in the middle of the night.
On weeknights, the BUS "Nite" line makes 16 rounds of BU's campus, from Fenway to Charles River, and back to its base at Agganis. It runs until 4 a.m. on weekends, making between 18 and 36 rounds a night. That's over 160 times a week, and over 6,400 times a school year that the night bus circles campus to accommodate BU students' after hours commutes.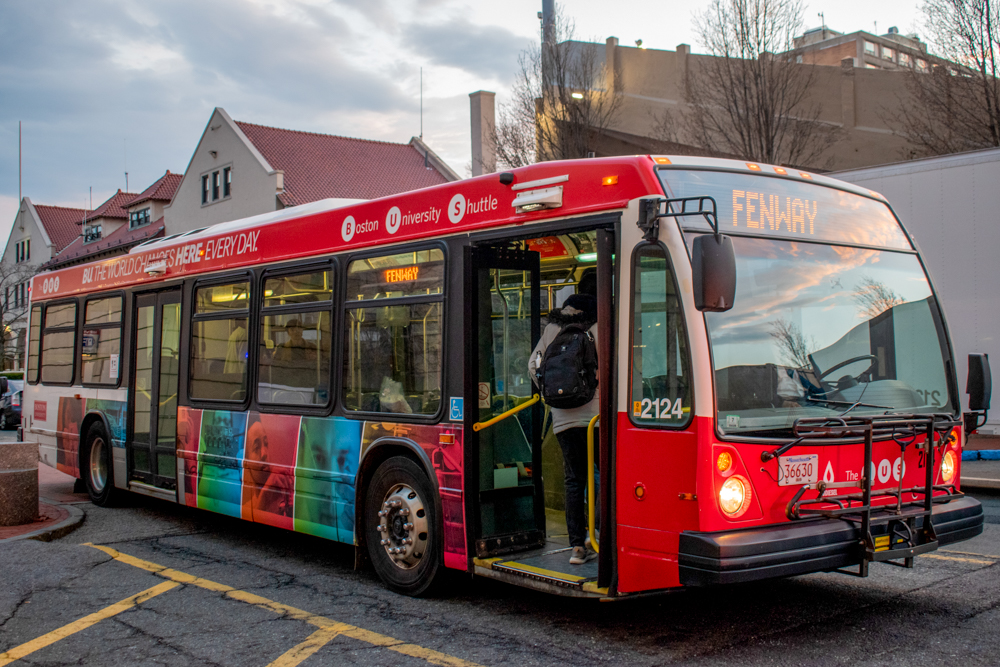 While the job may sound monotonous, Fevius said both of the songs she produced since arriving in the U.S., she wrote behind the wheel.
"I was on the highway and I was thinking … I need a vacation song. I need something big. And then, I started singing to myself, a tune about home, something that showed my nostalgie," she said. The resulting "LAKAY MWEN," creole for "My Home," can now be found on YouTube.
Indeed, the fishing town in Haiti where Fevius grew up is where her passion for singing began. At age nine, she founded a band and wrote over 50 songs in the following decade. After moving to the U.S. as a 21-year-old mother, she joined a new band for four years.
Now as a night bus driver, passengers compliment her voice when she sings to her favorite French Jazz station. Fevius is a self-proclaimed "loud driver," she said with a laugh.
Not everyone composes music on the job. Mathew Colon, a BUS nite line operator from the Bronx, said he loves to people-watch.
"I'm a New Yorker," Colon said. "My whole life is watching people."
Colon said the most interesting thing he's seen on the bus are students partying at the end of the week. Each Friday and Saturday night, there are people hugging him, dancing and giving him cookies and biscuits from different parts of the world.
But while drivers watch out for students, recognize regulars and for better or worse, know students' night time routines by heart, Colon said drivers do not always feel recognized by students.
"There's a presumption of a waitress, security, the guy cleaning the bathroom. Some people look at these individuals in their capacity," Colon said. "They don't realize that it's a person."
Fevius said she feels passengers see drivers like a "robot."
Originally from Hong Kong, long time driver Qiu Feng has other complaints about student passengers.
"Most of the students are polite and nice, but some not really," Feng said. On night shifts and weekends, he said he deals with intoxicated students, who will sometimes stand over the driver's seat and talk to him.
Colon has had similar experiences.
"[Passengers] say weird things to me," he said. "I go, 'You know I'm old enough to be your father, right? Like, who gives you the right to say these things to me?'"
While rare, Colon and Feng said students have vomited on the bus.
"We don't have to clean it up, so we don't care," Feng said. "Sometimes, the person who cleans it up will say, 'What kind of students are these from BU?'"
Besides from having to deal with students post-Allston crawl, Feng said drivers dislike when people jaywalk, because "even elementary students know how to follow the rules."
For Fevius, students' safety is a priority even if it means falling behind schedule.
"If it's a girl, it's late night, I like to wait and see them actually go to the door. Because I will hate to be the last person that saw them," she said. "I watched too many justice series."
Fevius said she hopes all drivers prioritize students in this way. "After all," she said, "we're just here for that: to transport you."
There's also the appeal of late night serenity, as Colon highlighted. While "no one wants to finish work at three o'clock in the morning," Colon said he's "superman," so it doesn't matter.
"There's three people in this world," Colon said. "There's good people, there's bad people and then there's drivers."